TRACTOR WORK IN THE MIDLANDS.
19th September 1918
Page 9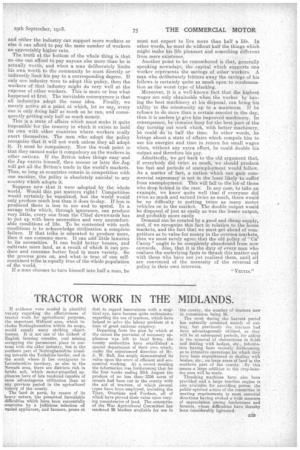 Page 9, 19th September 1918 —
TRACTOR WORK IN THE MIDLANDS.
Close
If evidence were needed in plentiful variety regarding the effectiveness of tractor work for agricultural purposes, the important Midland area, which includes Nottinghamshire within its scope, would supply many striking objectlessons, it is not one of the richest of English farming counties, coal mining occupying the paramount place in contrast with the older industry, but in the northern part of Nottinghamshire trending towards the Yorkshire border, and in the south where it lies contiguous to Leicestershire territory, as also in the Newark area, there are districts rich in fertile soil, which motor-propelled appliances have of late rendered .capable of more advantageous utilization than at any previous period in the agricultural history of the county. The 'land in parts, by reason of its heavy nature, has presented formidable difficulties which have been successfully overcome by a judicious selection of vaned appliances, and farmers, prone at first to regard innovations with a sceptical eye, have become quite enthusiastic regarding the use of tractors, which have helped to solve the labour problem at a time of great national exigency.
Departing from the plan by which at the outset the provision of necessary appliances was left to local firms, the county authorities have established a special department of their own which, under the experienced direction of Mr. J. W. Ball, has amply demonstrated its value upon the score of efficient and economical working. At a recent meeting the information was forthcoming that for the four weeks ending 30th August the produce of no less than2356 acres of cereals had been cut in the county with the aid of tractors, of which several. types have been employed, including the Titan, Overtime and Fordson, all of which have proved their value upon varying consistencies of land. The enterprise of the War Agricultural Committee has rendered 88 binders available for use in
the county, the number of tractors now in commission being 56.
The work during tho harvest period has naturally consisted mainly of cutting, but previously the tractors had been advantageously utilized, as they will be at subsequent periods, for aiding in the removal of obstructions in fields and dealing with hedges, etc., informa tion having been v forthcoming as to 'extensive operations forwhich they have been requisitioned in dealing with bushes, etc., on large areas of land in the southern part of the county. By this means a large addition to the crop-bearing area will be made.
Threshing machines have also been provided and a large traction engine is also available for providing power, the public-spirited action of the committee in meeting requirements in most essential directions having evoked a wide measure of appreciation among landowners and farmers, whose difficulties have thereby been considerably lightened.