ONE HEARS
19th September 1918
Page 3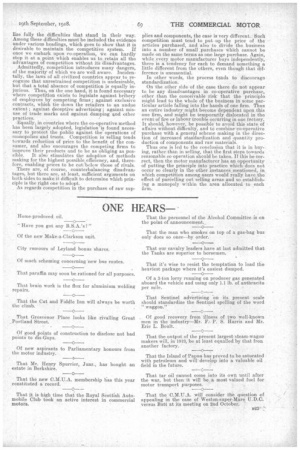 Page 3, 19th September 1918 —
ONE HEARS
Close
Home-produced oil.
"Have you got any B.S.A.'s I " Of the new Make-a-Clarkson unit.
City rumours of Leyland bonus shares.
Of much scheming concerning now bus routes.
That paraffin may soon be rationed for all purposes.
That brain work is the flux for aluminium welding repairs.
That the Cat and Fiddle Inn will always be worth the climb.
That Grosvenor Place looks like rivalling Great Portland Street.
Of good points of construction to disclose not bad points to dis-Guys.
Of new aspirants to Parliamentary honours from the motor industry.
That Mr. Henry Spurrier, Junr., has bought an estate in Berkshire.
That the new C.M.U.A. membership lias this year constituted a record.
That it is high time that the Royal Scottish Automobile Club took an active interest in commercial motors. That the personnel of the Alcohol Committee is on the point of announcement.
That the man who smokes on top of a gas-bag bus only does so once—by order.
That our cavalry leaders have at last admitted that the Tanks are superior to horsemen.
That it's wise to resist the temptation to load the heaviest package where it's easiest dumped.
Of a 3-ton lorry running on producer gas generated aboard the vehicle and using only 1.1 lb. of anthracite per mile.
That Sentinel advertising on its present scale should standardize the Sentinel spelling of the word "waggon."
Of good recovery from illness of two well-known i men n the industry—Mr. F.. P. S. Harris and Mr.
Erie L. Boult.
That the output of the present largest steam-wagon makers will, in 1919, be at least equalled by that fron. another factory.
That the Island of Papua has proved to be saturated with petrcileum and will develop into a valuable oil field in the future.
That tar oil cannot come into its own until after the war, but then it will be a most valued fuel for motor transport purposes.
That the C.M.U.A. will consider the question of appealing in the case of Weston-super-Mare U.D.C. versus Butt at its meeting on 2nd October.