THE TRACK BACK TO PROFIT
19th October 1985
Page 60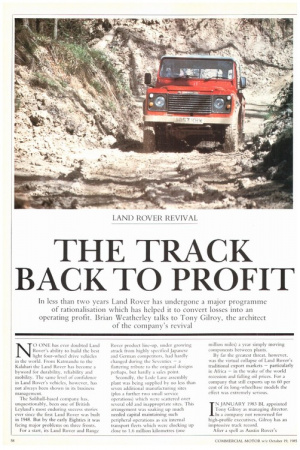 Page 61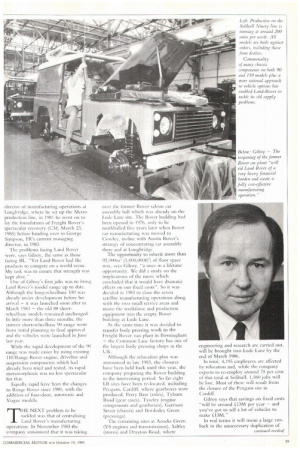 Page 62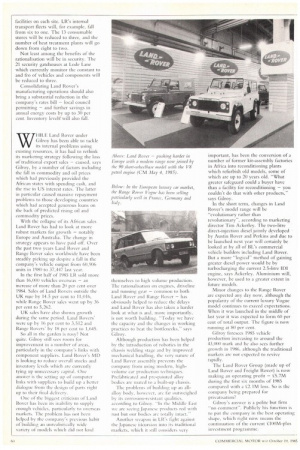 Page 60, 19th October 1985 —
THE TRACK BACK TO PROFIT
Close
Keywords :
British Leyland
,
Rover
,
British Brands
,
Suvs
,
Rover Company
,
Land Rover
,
Range Rover
,
Austin Rover Group
,
Rover Group
,
Rover V8 Engine
,
Land Rover Llama
,
Business / Finance
In less than two years Land Rover has undergone a major programme of rationalisation which has helped it to convert losses into an operating profit. Brian Weatherley talks to Tony Gilroy, the architect of the company's revival
NO ONE has ever doubted Land Rover's ability to build the best light four-wheel drive vehicles in the world. From Katmandu to the Kalahari the Land Rover has become a byword for durability, reliability and mobility. The same level of confidence in Land Rover's vehicles, however, has not always been shown in its business management.
The Solihull-based company has. unquestionably, been one of British Leyland's most enduring success stories ever since the first Land Rover was built in 1948. But by the early Eighties it was facing major problems on three fronts.
For a start, its Land Rover and Range Rover product line-up, under growing atrack from highly specified Japanese and German competitors, had hardly changed during the Seventies — a flattering tribute to the original designs perhaps, but hardly a sales point.
Secondly, the Lode Lane assembly plant was being supplied by no less than seven additional manufacturing sites (plus a further two small service operations) which were scattered over several old and inappropriate sites. This arrangement was soaking up much needed capital maintaining such peripheral operations as six internal transport fleets which were clocking up close to 1.6 million kilometres (one million miles) a year simply moving components between plants.
By far the greatest threat, however, was the virtual collapse of Land Rover's traditional export markets — particularly in Africa — in the wake of the world recession and falling oil prices. For a company that still exports up to 60 per cent of its long-wheelbase models the effect was extremely serious.
IN JANUARY 1983 BL appointed Tony Gilroy as managing director. In a company not renowned for high-profile executives, Gilroy has an impressive track record.
After a spell as Austin Rover's director of manufacturing operations at Longbridge, where he set up the Metro production line, in 1981 he went on to lay the foundations of Freight Rover's spectacular recovery (CM, March 23, 1985) before handing over to George Simpson, FR's current managing director, in 1983.
The problems facing Land Rover were, says Gilroy, the same as those facing BL. "Yet Land Rover had the products to compete on a world scene. My task was to ensure that strength was kept alive." One of Gilroy's first jobs was to bring Land Rover's model range up to date. Although the long-wheelbase 110 was already under development before his arrival — it was launched soon after in March 1983 — the old 88 shortwheelbase models remained unchanged. In little more than three months, the current short-wheelbase 90 range went from initial planning to final approval and the vehicles were launched in June last year.
While the rapid development of the 90 range was made easier by using existing 110/Range Rover engine, driveline and suspension components which had already been tried and tested, its rapid metamorphosis was no less spectacular for that.
Equally rapid have been the changes to Range Rover since 1980, with the addition of four-door, automatic and Vogue models.
THE NEXT problem to be tackled was that of centralising Land Rover's manufacturing operations. In November 1983 the company announced that it was taking
over the former Rover saloon car assembly hall which was already on the Lode Lane site. The Rover building had been opened in 1976, only to be mothballed five years later when Rover car manufacturing was moved to Cowley, in-line with Austin Rover's strategy of concentrating ear assembly there and at Longbridge.
The opportunity to inherit more than 92,000m2 (1,000,0(i01t2) of floor space was, says Gilroy. "a once in a lifetime opportunity. We did a study on the implications of the move which concluded that it would have dramatic effects on our fixed costs". So it was decided in 1983 to close the seven satellite manufacturing operations along with the two small service areas and move the workforce and production equipment into the empty Rover building at Lode Lane.
At the same time it was decided to transfer body pressing work to the Freight Rover van plant in Birmingham — the Common Lane factory has one of the largest body pressing shops in the UK.
Although the relocation plan was announced in late 1983, the closures have been held back until this year, the company preparing the Rover building in the intervening period. So far eight LR sites have been re-located. including Pengam. Cardiff, where gearboxes were produced, Perry Barr (axles), Tyburn Road (gear cases), Tyseley (engine components and gearboxes), Garrison Street (chassis) and Bordesley Green (pressings).
The remaining sites at Acocks Green (V8 engines and transmissions), Saltley (stores) and Drayton Road, where engineering and research are carried out, will be brought into Lode Lane by the end of March 1986.
In total, 4,195 employees are affected by relocation and, while the company expects to re-employ around 75 per cent of that total at Solihull, 1,560 jobs will he lost. Most of these will result from the closure of the Pengam site in Cardiff.
Gilroy says that savings on fixed costs "will be around £13M per year — and you've got to sell a lot of vehicles to make il3M."
In real terms it will mean a large cutback in the unnecessary duplication of facilities on each site. LR's internal transport fleets will, for example, fall from six to one. The 13 consumable stores will be reduced to three, and the number of heat treatment -plants will go down from eight to two.
Not least among the benefits of the rationalisation will be in security. The 21 security gatehouses at Lode Lane which currently monitor the constant to and fro of vehicles and components Will be reducedto three.
Consolidating Land Rover's manufacturing operations should also bring a substantial reduction in the company's rates bill local council permitting and further savings in annual energy costs by up to 30 per cent. Inventory level will also fall.
W111LE Land Rover under Gilroy has been able to tackle its internal problems using existing resources, it has had to rethink its marketing strategy following the loss of traditional export sales caused, says Gilroy, by a number of factors including the fall in commodity and oil prices which had previously provided the African states with spending cash, and the rise in US interest rates. The latter in particular caused massive repayment problems to those developing countries which had accepted generous loans on the back of predicted rising oil and commodity prices.
With the collapse of its African sales Land Rover has had to look at more robust markets for growth notably Europe and Australia. The change in strategy appears to have paid off. Over the past two years Land Rover and Range Rover sales worldwide have been steadily picking up despite a fall in the company's vehicle output From 60,906 units it, 1980 to 37,447 last year.
in the first half of 1985 LR sold more than 16,0(X) vehicles overseas an increase of more than 20 per cent over 1984. Sales of Land Rovers outside the UK rose by 14.5 per cent to 11,016, while Range Rover sales went up by 36 per cent to 5,262.
UK sales have also shown growth during the same period, Land Rovers' were up by 16 per cent to 3,512 and Range Rovers' by 18 per cent to 1,645.
So all in the garden is rosy? Not quite. Gilroy still sees room for improvement iii a number of areas, particularly in the company's links with component suppliers. Land Rover's MD is looking to reduce overall stocks and inventory levels which are currently tying up unnecessary capital. One answer is the setting up of computer links with suppliers to build up a better dialogue From the design of parts right up to their final delivery.
One of the biggest criticism of Land Rover has been its inability to supply enough vehicles. particularly to overseas markets. The problem has not been helped by the company's previous habit of building an unrealistically wide variety of models which did not lend themselves to high volume production. The rationalisation on engines, driveline and running gear common to both Land Rover and Range Rover has obviously helped to reduce the delays and Land Rover has also taken a harder look at what is and, more importantly, is not worth building. "Today we have the capacity and the changes in working practices to beat the bottlenecks," says Gilroy.
Although production has been helped by the introduction of robotics in the chassis welding stage and by improved mechanical handling, the very nature of Laud Rover assembly prevents the company from using modern, highvolume car production techniques. Prefabricated and pre-painted alloy bodies are mated to a Iunit-up chassis.
The problems of building up all allalloy body, however, are Far outweighed by its corrosion-resistant qualities. according to Gilroy. "ln rue Middle East we are seeing _lapanese products red with rust but our bodies are totally intact."
Another weapon in LR's tight against the Japanese incursion into its traditional markets, which it still considers very important, has been the conversion of a number of former kit-assembly factories in Africa into reconditioning plants which refurbish old models, some of which are up to 20 years old. "What greater safeguard could a buyer have than a facility for reconditioning you couldn't do that with other products," says Gilroy.
In the short term, changes in Land Rover's model range will be evolutionary rather than
revolutionary", according to marketing director Tim Ackerley. The two-litre direct-injection diesel jointly developed by Austin Rover and Perkins and due to be launched next year will certainly be looked at by all of.B.L's commercial vehicle builders including Land Rover. But a more "logical" method of gaining greater diesel power would be by turbocharging the current 2.5-litre ID1 engine, says Ackerley. Aluminium will, however, be used to a greater extent in future models.
Minor changes to the Range Rover are expected any day now, although the popularity of the current luxury Vogue model continues to exceed expectations. When it was launched in the middle of last year it was expected to form 60 per cent of total output. The figure is now running at 80 per cent.
Gilroy foresees 1985 vehicle production increasing to around the 43,000 mark and he also sees further growth in 1986, although the traditional markets are not expected to revive rapidly.
The Land Rover Group (made up of Land Rover and Freight Rover) is now making an operating profit 15. 7M during the first six months of 1985 compared with a 1.,"2.1M loss. So is the company being prepared for privatisation?
Gilroy's answer is a polite but firm "no comment-. Publicly his function is to put the company in the best operating shape, which right now means the continuation of the current ti 100M-plus investment programme: