TOUGH NUT FOR INDEPENDENTS
19th October 1985
Page 54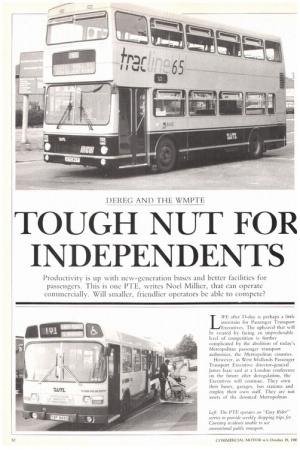 Page 55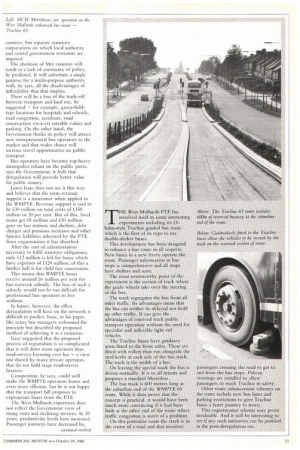 Page 56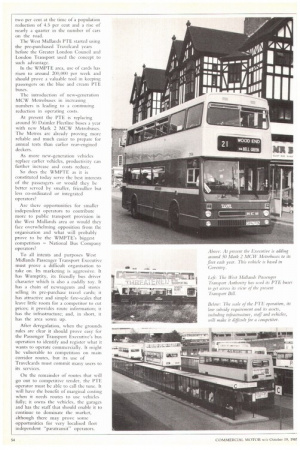 Page 54, 19th October 1985 —
TOUGH NUT FOR INDEPENDENTS
Close
Productivity is up with new-generation buses and better facilities for passengers. This is one PTE, writes Noel Miflier, that can operate commercially. Will smaller, friendlier operators bc able to compete?
LIFE after D-day is perhaps a little uncertain for Passenger Transport Executives. The upheaval that will IN: created by facing an unpredictable level of competition is further complicated by the abolition of today's Metropolitan passenger transport authorities, the Metropolitan counties.
However, as West Midlands Passenger Transport Executive director-general James Isaac said at a London conference on the future after deregulation, the Executives will continue. They own their buses, garages, bus stations and employ their own staff. They are not assets of the doomed Metropolitan counties, but separate statutory corporations on which local authority and central government restraints are imposed.
The abolition of Met counties will result in a lack of continuity of policy, he predicted. It will substitute a single purpose for a multi-purpose authority with, he says, all the disadvantages of inflexibility that that implies.
There will be a loss of the trade-off between transport and land use, he suggested — for example, green-fieldtype locations for hospitals and schools, road congestion, accidents, road construction vis-a-vis rateable values and parking. On the other hand, the Government thinks its policy will attract new entrepreneurial bus operators to the market and that wider choice will increase travel opportunities on public transport.
Bus operators have become top-heavy monopolies reliant on the public purse, says the Government; it feels that deregulation will provide better value for public money.
James Isaac does not see it this way and believes that the term revenue support is a misnomer when applied to the WMPTE. Revenue support is said to be £30 million on total costs of £150 million or 20 per cent. But of this, local trains get £8 million and £10 million goes on bus stations and shelters, debt charges and pensions increases and other historic liabilities inherited by the PTE from organisations it has absorbed.
After the cost of administration necessary to fulfil statutory obligations, only £12 million is left for buses which have expenses of £124 million; of this a further half is for child fare concessions.
This means that WMPTE buses receive around £6 million per year for bus network subsidy. The loss of such a subsidy would not be too difficult for professional bus operators to live without.
In future, however, the effect deregulation will have on the network is difficult to predict. Isaac, in his paper, like many bus managers welcomed the principle but described the proposed method of achieving it as a nonsense. Isaac suggested that the proposed process of registration is so complicated that it will deter more operators than road-service licensing ever has — a view not shared by many private operators that do not hold stage road-service licences.
Competition, he says, could well make the WMPTE operation leaner and even more efficient, but he is not happy that the transport bill proposes to expropriate buses from the PTE.
The West Midlands experience does not reflect the Government view of rising costs and declining services. In 10 years, productivity levels have increased. Passenger journeys have decreased by,
THE West Midlands PTE has involved itself in sonic interesting experiments including its 0bahn-style Tracline guided bus route which is the first of its type to use double-decker buses.
This development has been designed to enhance a bus route in all respects. New buses in a new livery operate the route. Passenger information at bus stops is comprehensive and all stops have shelters and seats.
The most newsworthy point of the experiment is the section of track where the guide wheels take over the steering of the bus.
The track segregates the bus from all other traffic. Its advantages mean that the bus can neither be delayed nor hold op other traffic. It can give the advantages of reserved track public transport operation without the need for Specialist and inflexible light rail
vehicles.
The Tracline buses have guidance arms fitted to the front axles. These are fitted with rollers than run alongside the steel kerbs at each side of the bus track. The track is the width of a bus.
On leaving the special track the bus is driven normally. It is to all intents and purposes 3 standard Metrobus.
The bus track is 600 metres long at the suburban end of the WMPTE 65 route. While it does prove that the concept is practical, it would have been much more convincing if it had been built 3t the other end of the route where trafficcongestion is more of a problem.
On this particular route the track is in the centre of a road and that involves
passengers crossing the road to get to and from the bus stops. Pelican crossings are installed to allow passengers to reach Traeline in safety.
Other route enhancement schemes on the route include new bus lanes and parking restrictions to give Tracline_ buses a faster journey to town.
This experimental scheme may prove. invaluable. And it will be interesting to see if any such initiatives can bc justified in the post-deregulation era.
two per cent at the time of a population reduction of 4.5 per cent and a rise of nearly a quarter in the number of cars on the road.
The West Midlands PTE started using the pre-purchased Travelcard years before the Greater London Council and London Transport used the concept to such advantage.
In the WMPTE area, use of cards has risen to around 200,000 per week and should prove a valuable tool in keeping passengers on the blue and cream PTE buses.
The introduction of new-generation MCW Metrobuses in increasing numbers is leading to a continuing reduction in operating costs.
At present the PTE is replacing around 50 Daimler Fleetline buses a year with new Mark 2 MCW Metrobuses. The Metros arc already proving more reliable and much easier to prepare for annual tests than earlier rear-engined deckers.
As more new-generation vehicles replace earlier vehicles, productivity c.m further increase and costs reduce.
So does the WMPTE as it is constituted today serve the best interests of the passengers or would they be better served by smaller, friendlier but less co-ordinated or integrated operators?
Are there opportunities for smaller independent operators to contribute more to public transport provision in the West Midlands area or would they face overwhelming opposition from the organisation and what will probably prove to be the WMPTE's biggest Competition — National Bus Company operators?
To all intents and purposes West Midlands Passenger Transport Executive must prove a difficult organisation to take on. Its marketing is aggressive. It has Wumptity, its friendly bus driver character which is also a cuddly toy. It has a chain of newsagents and stores selling its pre-purchase travel cards; it has attractive and simple fare-scales that leave little room for a competitor to cut prices; it provides route information; it has the infrastructure; and, in short, it has the area sown up.
After deregulation, when the grounds rules are clear it should prove easy for the Passenger Transport Executive's bus operation to identify and register what it wants to operate commercially. It might be vulnerable to competition on main corridor routes, but its use of Travelcards must commit many users to its services.
On the remainder of routes that will go out to competitive tender, the PTE operator must be able to call the tune. It will have the benefit of marginal costing when it needs routes to use vehicles fully; it owns the vehicles, the garages and has the staff that should enable it to continue to dominate the market, although there may prove some opportunities for very localised fleet independent "paratransit" operators.