A LION'S SHARE
19th October 1985
Page 52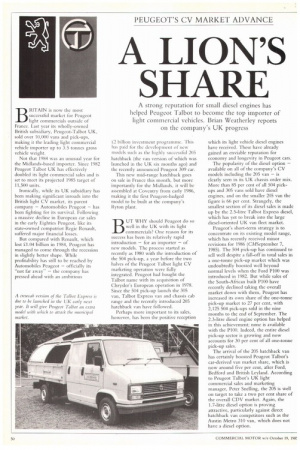 Page 53
Page 52, 19th October 1985 —
A LION'S SHARE
Close
Keywords :
Hatchbacks
,
Vans
,
Car Manufacturers
,
Sedans
,
Peugeot
,
Talbot
,
Fiat Ducato
,
Renault Master
,
Peugeot 308
,
Peugeot 206
,
Business / Finance
A strong reputation for small diesel engines has helped Peugeot Talbot to become the top importer of light commercial vehicles. Brian Weatherley reports on the company's UK progress
BRITAIN is now thc most successful market for Peugeot light commercials outside of France. Last year its wholly-owned British subsidiary, Peugeot-Talbot UK, sold over 10,000 vans and pick-ups, making it the leading light commercial vehicle importer up to 3.5 tonnes gross vehicle weight.
Not that 1984 was an unusual year for the Midlands-based importer. Since 1982 Peugeot Talbot UK has effectively doubled its light commercial sales and is set to meet its projected 1985 target of 11,500 units. .
Ironically, while its UK subsidiary has been making significant inroads into the British light CV market, its parent company — Automobiles Peugeot — has been fighting for its survival. Following a massive decline in European car sales in the early Eighties Peugeot, like its state-owned compatriot Regie Renault, suffered major financial losses.
But compared with Renault, which lost £1.04 billion in 1984, Peugeot has managed to come through the recession in slightly better shape. While profitability has still to be reached by Automobiles Peugeot — officially its "not far away" — the company has pressed ahead with an ambitious billion investment programme. This has paid for the development of new models such as the highly successful 205 hatchback (the van version of which was launched in the UK six months ago) and the recently announced Peugeot 309 car.
This new mid-range hatchback goes on sale in France this month, but more importantly for the Midlands, it will be assembled at Coventry from early 1986, making it the first Peugeot-badged model to be built at the company's Ryton plant.
BUT WHY should Peugeot do so well in the UK with its light commercials? One reason for its success has been its relatively rapid introduction — for an importer — of new models. The process started as recently as 1980 with the introduction of the 504 pick-up, a year before the two halves of the Peugeot Talbot light CV marketing operation were fully integrated. Peugeot had bought the Talbot name with its acquisition of Chrysler's European operation in 1978. Since the 504 pick-up launch the 305 van, Talbot Express van and chassis cab range and the recently introduced 205 hatchback van have followed.
Perhaps more important to its sales, however, has been the positive reception which its light vehicle diesel engines have received. These have already gained an enviable reputation for economy and longevity in Peugeot cars.
The popularity of the diesel option — available on all of the company's CV models including the 205 van — is clearly seen in its UK chassis order mix. More than 85 per cent of all 504 pickups and 305 vans sold have diesel engines, and on the smaller 205 van the Figure is 66 per cent. Strangely, the smallest section of its diesel sales is made up by the 2.5-litre Talbot Express diesel, which has yet to break into the large diesel-oriented UK van fleet market.
Peugeot's short-term strategy is to concentrate on its existing model range, which has recently received minor revisions for 1986 (CMSeptember 7, 1985). The 504 pick-up has continued to sell well despite a fall-off in total sales in a one-tonne pick-up market which was undoubtedly boosted well beyond normal levels when the Ford P100 was introduced in 1982. But while sales of the South-African built P100 have recently declined taking the overall market down with them, Peugeot has increased its own share of the one-tonne pick-up market to 27 per cent, with 2,125 504 pick-ups sold in the nine months to the end of September. The 2.3-litre diesel engine option has helped in this achievement; none is available with the P100. Indeed, the entire diesel pick-up sector is growing and now accounts for 39 per cent of all one-tonne pick-up sales.
The arrival of the 205 hatchback van has certainly boosted Peugeot Talbot's car-derived van market share, which is now around five per cent, after Ford, Bedford and British Leyland. According to Peugeot Talbot's UK light commercial sales and marketing manager, Peter Snelling, the 205 is well on target to take a two per cent share of the overall CDV market. Again, the 1.7-litre diesel option is proving attractive, particularly against direct hatchback van competitors such as the Austin Metro 310 van, which does not have a diesel option.
Moving up the weight range, the 305 van is now beginning to sell into van fleets says Snelling. He sees it appealing to operators who are less interested in volume than payload.
/F THERE is room for improvement in Peugeot Talbot's UK CV operations it is in the sales of the Talbot Express range, which Snelling describes as "ticking over". Despite the advantage of a diesel variant right from its introduction in 1983 — Fiat launched a diesel Ducat() only in March of this year — the Express got off to a slow start.
Like the Fiat Ducat°, the Express is built at the joint Peugeot-Fiat SEV FL plant in Italy and early production models lacked the high quality demanded by the UK market. As a result Peugeot Talbot received a large number of warranty complaints based on the vehicle's finish. There were also problems with its gear linkage, which was poorly converted to a floor change from the original left-hand-drive column change, and the speedo cable layout. To cap all this SEVEL also had difficulties in maintaining a sufficient supply of' right-hand-drive models to the UK, which prevented Peugeot Talbot from capitalising on its initial sales.
But Snelling feels that these problems arc now behind the company. "SEVEL has recognised the needs for the UK market and the quality of vehicles coming through is now excellent. Warranty costs are now very low indeed and first-year claims are a quarter of what they were."
The initial supply shortage has also been improved by SEVEL along with the gear linkage. Last year, Peugeot Talbot sold 3,980 Express models and Snelling expects easily to exceed 4,000 units in 1985.
Although most Express sales are still to small-fleets and owner-drivers Peugeot Talbot has been promoting the van to fleet buyers and now lists Currys and the London Electricity Board among its Express customers. The company has also recently appointed a full-time sales executive who will specialise in municipal sales.
Long-term strategy at Peugeot Talbot is fiir continued "modest but steady growth." Its existing model line up will not be significantly changed, although a GL version of the 504 pick-up will be available soon, in line with the recent launch of the GL trim 305 van.
The existing 504 pick-up is now a little long in the tooth and a new model based on the 505 saloon has been looked at by Peugeot in France. Snelling does not see any immediate opportunities for it in the UK, however, considering the current success of the 504 and the extra cost a new model would inevitably carry.
A high-roof version of the 305 is another new model possibility, although Snelling wants "to see how the Astramax does first". A 3.5-tonne GVW version of the Express is scheduled for the end of 1986, with option of single or twin rear wheels currently being considered. The addition of a 3.5-tonne van and chassis cab models to the existing Express range, which currently stops at 3.1 tonnes GVW, would allow the company to compete in the lucrative 3.5-tonne heavy van sector which has seen recent growth, as well as selling directly against the 3.5-tonne front-wheel-drive Renault Master. "If the Express is to be seen as a serious contender," says Snelling, "we have to offer a vehicle in the 3.5-tonne sector."
A specially turbocharged version of the 2.5-litre diesel Express has also been produced for front-line ambulance work (CM July 6, 1985) and an extended wheelbase chassis cab, modified by Alko (which already offers a similar Conversion on the Fiat Ducato), is also being developed. A prototype Express erewcab was shown at the recent Local Authority Plant and Vehicle Show and full production versions are expected early next year.
Peugeot Talbot's current UK network stands at 438 CDV and pick-up dealers, of which 220 also handle the Express range. Snelling considers this "as just about right. We shall be investing substantial resources in dealer development, although the overall number will be roughly the same."
The previous existence of a fairly large CV network has clearly helped Peugeot Talbot achieve its two to one sales advantage, which the Talbot Express enjoys over the Fiat Ducat°,
AT ONE time there were suggestions that Peugeot Talbot might re-badge all Peugeot models as Talbots for the UK market. This appears to have been shelved. Indeed, the decision to badge the new Ryton-built 309 hatchback — which goes on sale next year in Britain as a Peugeot would seem to suggest a move in the opposite direction, although officially "there are no plans to abandon Talbot as a marque".
The UK van market is showing clear signs of growth and Peugeot Talbot expects the total volume for 1985 to be up by between six to seven per cent. The projected upturn in the European car market in 1986 should also help van sales, according to Snelling, who is looking to sell around 12,000 units next year.
Competition with Renault for UK light CV market share is fierce. Both Peugeot and Renault have made significant advances, but up to the end of September Peugeot Talbot was frationally ahead, with a 5.3 per cent share of the up-to-3.5-tonne-GVW sector, with sales of 8,957 vehicles compared with Renault's 5.2 per cent on sales of 8,862.
Renault, however, is noticeably stronger its the panel van sector having sold 7,918 Trafic and Masters against 3,132 Express vans. Whichever mania:lamer finishes the year ahead, it seems certain that the total share of the UK light CV market held by French models will continue to increase.