SINGLE MINDED
19th October 1985
Page 48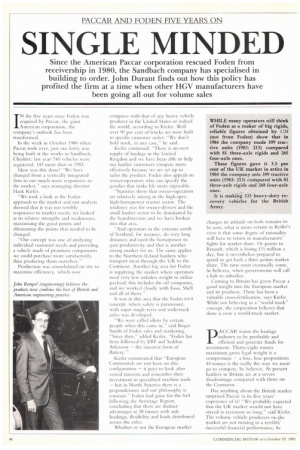 Page 49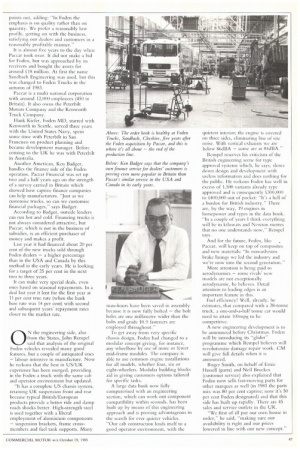 Page 48, 19th October 1985 —
SINGLE MINDED
Close
Since the American Paccar corporation rescued Foden from receivership in 1980, the Sandbach company has specialised in building to order. John Durant finds out how this policy has profited the firm at a time when other HGV manufacturers have been going all out for volume sales
/N the five years since Foden was acquired by Paccar, the giant American corporation. the company's outlook has been
transfinined.
In the week in October 1980 when Paccar took over, just one lorry was being built at the works in Sandbach, Cheshire: last year 745 vehicles were registered, 143 more than in 1983.
How was this done? "We have changed from a vertically integrated firm to one much more responsive to the market," says managing director Hank Kiefer.
"We took a look at the Foden approach to the market and our analysis showed that it was not terribly responsive to market needs; we looked at its relative strengths and weaknesses, maximising the good points and eliminating the points that needed to be changed.
"Our concept was one of analysing individual customer needs and providing a vehicle made of premium components we could purchase more satisfactorily than producing them ourselves."
Production was consolidated on site to maximise efficiency, which now compares with that of any heavy vehicle producer in the United States or indeed the world, according to Kiefer. Well over 90 per cent of trucks are now built to specific customer order: "We don't hold stock, in any case," he said.
Kiefer continued: "There is an over supply of haulage in the United Kingdon and we have been able to help our haulier customers compete more effectively because we are set up to tailor the product. Foden also appeals to owner-operators who can specify the goodies that make life more enjoyable.
"Statistics show that owner-operators are relatively strong in the high-spec, high-horsepower tractor sector. The tendency was fbr owner-drivers and the small haulier sector to be dominated by the Scandinavians and we have broken into that area.
"And operators in the extreme north of Scotland, for instance, do very long distances and need the horsepower to gain productivity and that is another strong market for us. The same applies to the Northern Ireland hauliers who transport meat through the UK to the Continent. Another big area for Foden is supplying the market where operators need very low unladen weight to utilize payload; this includes the oil companies, and we worked closely with Esse, Shell and all of them."
It was in this area that the Foden 6x4 concept, where safety is paramount, with super single tyres and wide-track axles was developed.
"We were called idiots by certain people when this came in," said Roger Smith of Foden sales and marketing. "Since then," added Keifer, "Foden has been followed by ERF and Seddon Atkinson — the sincerest form of flattery."
Kiefer commented that "European Continentals are not keen on this configuration — it pays to look after vested interests and remember their investment in specialised machine tools — but in North America there is a preponderance and our philosophy is constant." Foden had gone for the 6x4 following the Armitage Report, concluding that there arc distinct advantages at 38 tonnes with axle loadings, flexibility and loads distributed across the axles.
Whether or not the European market changes its attitude on 6x4s remains to be seen; what is more certain in Keifer's view is that some degree of rationality will have to return in manufacturers' fights for market share. He points to Renault, which is losing S:1/2 million a day, but is nevertheless prepared to spend to get hack a three points market share. The time must eventually come, he believes, when governments will call a halt to subsidies.
Coming to Britain has given Paccar a good insight into the European market and its products. There has been a valuable cross-fertilisation, says Kiefer. While not believing in a "world truck" concept, the corporation believes that there is now a world-truck market.
PACCAR wants the haulage industry to be profitable and , efficient and generate funds for investment. Thirty-eight tonnes maximum gross legal weight is a compromise — a lose, lose proposition; 44 tonnes is the really the way we must go to compete, he believes. At present hauliers in Britain are at a severe disadvantage compared with those on the Continent.
Has anything about the British market surprised Paccar in its five years' experience of it? "We probably expected that the UK market would nor have stayed in recession so long," said Kiefer. The volume vehicle producers oil he market are not turning in a terribly Successful financial performance, he
points out, adding: "In Foden the emphasis is on quality rather than on quantity. We prefer a reasonably low profile, getting on with the business, satisfying our dealers and customers in a reasonably profitable manner."' It is almost five years to the day when Paccar rook over. It did not make a bid for Foden, hut was approached by its receivers and bought the assets for around l million. At first the name Sandbach Engineering was used, hut this was changed to Foden Trucks in the autumn of 1983.
Paccar is a multi national corporation with around 12,0(4) employees (450 in Britain). It also owns the Peterbilt Motors Company and the Kenworth Truck Company.
Hank Kiefer, Foden MD, started with Kenworth in Seattle, served three years with the United States Navy, spent sonic time with PeterbiIt in San Francisco on product planning and became development manager. Before Coming to the UK he was with Peterbilt in Australia.
Another American, Ken Badger, handles the finance side of the Foden operation. Paccar Financial was set up two and a half years ago on the strength of a survey carried in Britain which showed how captive finance companies can help manufacturers. "Just as we customise trucks, so can we customise financial packages," says Badger.
According to Badger, outside lenders can run hot and cold. Financing trucks not always considered attractive, but Paccar, which is not in the business of subsidies, is an efficient purchaser of money and makes a profit.
Last year it had financed about 20 per cent of the new trucks sold through Foden dealers — a higher percentage than in the USA and Canada by this method in the early years. He is looking for a target of 25 per cent in the next two to three years.
It can make very special deals, even ones based on seasonal repayments. In a deal last year it lent for the first year at 11 per cent true rate (when the bank base rate was 14 per cent) with second and subsequent years' repayment rates closer to the market rate.
0 N the engineering side, also from the States, John Rempel said that analysis of the original Foden vehicles revealed many good features, but a couple of antiquated ones — labour intensive in manufacture. Now he reckons that the best in US/UK experience has been merged, providing in the Foden a truck with the same cab and operator environment but updated.
"It has a complete US chassis system, retaining UK suspension front and rear because typical British/European products provide a better ride and damp roads shocks better. High-strength steel is used together with a liberal employment of aluminium components — suspension brackets, frame crossmembers and fuel tank supports. Many man-hours have been saved in assembly because it is now fully bolted — the bolt holes are one millimetre wider than the bolts and grade 10.9 fasteners are employed throughout."
To get away from very specific chassis design, Foden had changed to a modular concept giving, for instance, any wheelbase by use of more or fewer mid-frame modules. The company is able to use common engine installations for all models, whether four, six or eight-wheelers. Modular building blocks aid in giving customers options tailored for specific tasks.
A large data bank now fully computerised with an engineering section, which can work out component compatibility within seconds, has been built up by means of this engineering approach and is proving advantageous in the search for ever quieter vehicles. "Our cab construction lends itself to a good operator environment, with the quietest interior; the engine is covered on three sides, eliminating line of site noise. With vertical exhausts we are below 86d.BA — sonic are at 84dBA."
Rempel reserves his criticism of the British engineering scene for type approval systems which, he says, slows down design and development with useless information and does nothing for the public. He reckons Foden has well in excess of 1,500 variants already type approved and is consequently $2300,000 to 1400,000 out of pocket: "It's a hell of a burden for British industry." There are, by the way, 19 engines in horsepower and types in the data book. "In a couple of years I think everything will he in kilowats and Newton metres that no one understands now," Rempel says.
And for the future, Foden, like Paccar, will keep on top of composites and new materials: "In non-asbestos brake linings we led the industry and we're now into the second generation.'" More attention is being paid to aerodynamics — sonic rivals' new models are not exceptionally aerodynamic, he believes. Detail attention to leading edges is an important feature in this.
Fuel efficiency? Well, already, he estimates, that compared with a 38-tonne truck, a one-and-a-half tonne car would need to attain 1(X)mpg to be competitive.
A new engineering development is to be announced before Chi istmas. Foden will br introducing its "glider" programme which Rempel believes will revolutionise damage repair work. CM will give full details when it is announced.
Roger Smith, on behalf of Ernie Hassell (parts) and Neil Brockes (customer service) also explained that Foden now sells fast-moving parts for other marques as well (in 1981 the parts mix was 80 per cent captive; now it's 50 per cent Foden designated) and that this side has built up rapidly. There are 45 sales and service outlets in the UK.
"We first of all put our own house in order," he said, "making sure our availability is right and our prices lowered in line with our new concept."