Training and re-training for management
19th October 1985
Page 45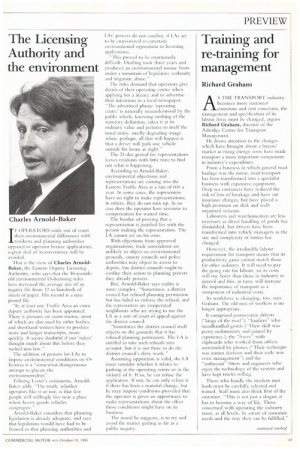 Page 46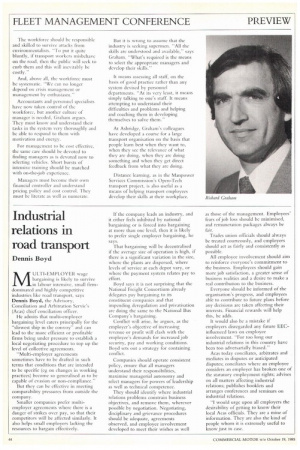 Page 45, 19th October 1985 —
Training and re-training for management
Close
Richard Graham
AS THE TRANSPORT industry becomes more customer conscious and cost conscious, the management and specification of its labour force must be changed, argues Richard Graham, director of the Ashridgc Centre for Transport Management.
He draws attention to the changes which have brought about a buyers' market as rising energy costs have made transport a more important component in industry's expenditure.
From a business in which general road haulage was the norm, road transport has been transformed into a specialist business with expensive equipment. Deep sea containers have reduced the risk of loss of breakage and have cut insurance charges, but have placed a high premium on slick and wellorganised systems.
Labourers and warehousemen are less necessary as direct handling of goods has diminished, but drivers have been transformed into vehicle managers as the size and complexity of -lorries has changed.
However, the irreducible labour requirement for transport means that its productivity gains cannot match those for other industry. It will need to pay the going rate for labour, so its costs will rise faster than those in industry in general and this, in turn, will increase the importance or transport as a component of industrial costs.
Its workfiiree is changing, too, says . Graham. The old mix of workers is no longer appropriate.
It comprised journeymen drivers ("kings of the road"); "hauliers" who mandhandled goods ("Their skill was pretty rudimentary and gained by experience.); the "fixers" with clipboards who worked from offices surrounded by phones (-Their technique was instant decision and their style was crisis management") and the
"enthusiast" titters :Ind engineers who enjoy the technology of the system and have kept trucks rolling.
Those who handle the modern unit loads must be carefully selected and trained. Staff must also think first of the customer. —Ibis is not just a slogan; it has to become a way of life. Those concerned with operating the industry must, at all levels, be aware of customer needs and the way they can be fulfilled."
The workforce should be responsible and skilled to survive attacks from environmentalists. "To put it quite bluntly, if transport workers misbehave on the road, then the public will seek to curb them and this will inevitably be costly."
And, above all, the workforce must be systematic. "We can no longer depend on crisis management or management by enthusiasm."
Accountants and personnel specialists have now taken control of the workforce, but another culture of manager is needed, Graham argues. They must know and understand their tasks in the system very thoroughly and be able to respond to them with motivation and energy.
For management to be cost effective. the same care should be devoted to finding managers as is devoted now to selecting vehicles. Short bursts of intensive training should be matched with on-the-joh experience.
Managers must become their own financial controller and understand pricing policy and cost control. They must be literate as well as numerate. But it is wrong to assume that the industry is seeking supermen. "A1I the skills are. understood and available," says Graham. "What's required is the means to select the appropriate managers and develop their skills."
It means assessing all staff, on the basis of good practice rather than any system devised by personnel departments. "At its very least, it means simply talking to one's staff. It means attempting to understand their difficulties and problems and helping and coaching them in developing themselves to solve them."
At Ashridge, Graham's colleagues have developed a course for a large transport organisation on the basis that people learn best when they want to, when they see the relevance of' what they are doing, when they are doing something and when they get direct feedback from what they are doing.
Distance learning, as in the Manpower Services Commission's Open-Tech transport project, is also useful as a means of helping transport employees develop their skills at their workplace.