I he Licensing Authority and the environment
19th October 1985
Page 45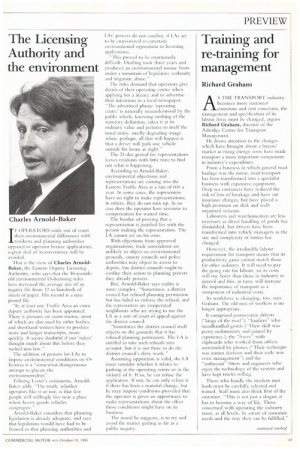 Page 45, 19th October 1985 —
I he Licensing Authority and the environment
Close
F OPERATORS settle out of court / their environmental differences with
residents and planning authorities opposed to operator licence applications, a great deal of inconvenience will be avoided.
'Mat is the view of Charles ArnoldBaker, the Eastern Deputy Licensing Authority, who says that the 16-monthold environmental 0-licensing rules have increased the average size of an inquiry file from 12 to hundreds of sheets of paper. His record is a nine pound tile.
'In at least one Traffic Area an extra deputy authority has been appointed. There is pressure on court rooms, most of which are also used by other bodies, and shorthand writers have to produce more and longer transcripts, num,' quickly. Et seems doubtful if our 'rulers' thought much about this before they rushed into law."
The addition of powers for LAs to impose environmental conditions on ()licences is a "somewhat disingenuous attempt to placate the environmentalists".
Echoing Lester's comments, ArnoldBaker adds: "I he truth, whether operators like it or not, is that few people will willingly live near a place where heavy goods vehicles congregate.
Arnold-Baker considers that planning legislation is already adequate, and says that legislation would have had to be framed so that planning authorities and LAs' powers do not conflict, if E.As are to be empowered to entertain environmental opposition to licensing applications.
'This proved to be enormously difficult. I )rafting took three years and produced an environmental mouse from under a mountain of legislative verbosity and linguistic' abuse."
'Ile rules demand that operators give details of their operating centre when applying for a licence and to advertise their intentions in a local newspaper. 'The advertised phrase 'operating centre' is naturally misunderstood by the public which, knowing nothing of the statutory definition, takes it at its ordinary value and pictures to itself the usual noisy, smelly degrading image when, perhaps, all that will happen is that a driver will park one vehicle outside his home at night."
The 21-day period for representations leaves residents with little time to find out what is happening.
According to Arnold-Baker, environmental objections and representations are coming into the Eastern Traffic Area at a rate of 6M a year. In some cases, the representers have no right to make representations; in others, they do not turn up. In no case does the operator have recourse to compensation for wasted time.
The burden of proving that a representation is justified lies with the person making the representation. The LA cannot act on his own.
With objections from approved organisations, trade associations are unlikely to object on environmental grounds, county councils and police authorities may object to access to depots, but district councils ought to confine their action to planning powers they already possess.
But, Arnold-Baker says reality is more complex. "Sometimes, a district council has refused planning permission but has failed to enforce the refusal, and the representers are exasperated neighbours who arc trying to use the LA as a sort of court of appeal against the district council.
"Sometimes the district council itself objects on the grounds that it has refused planning permission. The LA is entitled to take such refusals into account, hut it is not there to do the district council's dirty work.'' Assuming opposition is valid, the I.A must consider whether it relates to parking at the operating centre or in the vicinity of it. If so, he can refuse the application. If not, he can only refuse it if there has been a material change, but he may impose conditions provided that the operator is given an opportinuty to make representations about the effect those conditicms might have on its business.
The moral he suggests, is to try and avoid the matter getting as far as a public inquiry.