DRAWING THE THREADS TOGETHER
19th October 1985
Page 44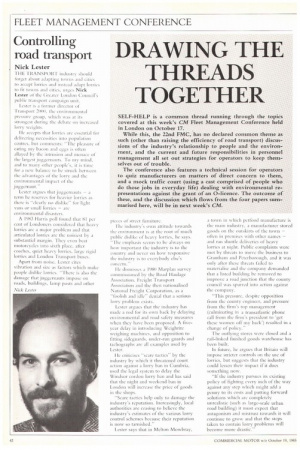 Page 44, 19th October 1985 —
DRAWING THE THREADS TOGETHER
Close
SELF-HELP is a common thread running through the topics covered at this week's CM Fleet Management Conference held in London on October 17.
While this, the 22nd FMC, has no declared common theme as such (other than raising the efficiency of road transport) discussions of the industry's relationship to people and the environment, and the current and future responsibilities in personnel management all set out strategies for operators to keep themselves out of trouble.
The conference also features a technical session for operators to quiz manufacturers on matters of direct concern to them, and a mock traffic court (using a cast comprised of people who do those jobs in everyday life) dealing with environmental representations against the grant of an 0-licence. The outcome of these, and the discussion which flows from the four papers summarised here, will be in next week's CM.
Controlling road transport
Nick Lester 'Hi E. TRANSPORT industry should forger about adapting towns and cities to accept lorries and instead adapt lortiis to tit towns and cities, urges Nick Lester of the Greater London Council's public transport campaign unit.
Lester is a former director of Transport 2iii10, the environniental pressure group, which was at its strongest during the debate on increased lorry weights.
Ile accepts that lorries are essential for delivering necessities into popidation centres, but comments: "The pleasure of eating my bacon and eggs is often allayed by the intrusion and menace of the largest juggernauts. To my mind, and to many other people's_ it is time for a new balance to be struck between the advantages Of the lorry and the environmental impact of the juggertiaut."
Lester argues that juggernauts — a tent] he reserves for heavier lorries as there is -dearly no disliketbr light vans or small lorries — are environmental disasters,
A 1983 Harris poll found that 81 per cent of Londoners considered that heavy lorries are a major problem and that articulated lorries are the noisiest by a substantial margin. They even beat motorcycles into sixth place, after coaches, quiet heavy lorries, large rigid lorries and London Transport buses.
Apart from noise. Lester cites vibration and size .15 factors which make people dislike lorries. "There is also the damage that juggernauts impose on roads, buildings, lamp posts and other
pieces of street furniture.
Me industry's own attitude towards the environment is at the root of much public dislike of heavy lorries, he says.
''1 lie seems to be always on how important the industry is to the country and never on how responsive the industry is to everybody else's concern."
Ile dismisses a 1980 Marplan survey commissioned by the Road 1 laulage Association, Freight Transport Association and the then nationalised National Freight Corporation, as a "Coolish and idle" denial that a serious lorry problem exists.
Lester argues that the industry has made a rod for its own hack by delaying environmental and road safety measures when they have been proposed. A fiveyear delay in introducing Wcighrite weighing machines, and opposition to fitting sideguards, under-run guards and tachographs are all examples used by Lester.
He criticises -scare tactics" by the industry by which it threatened court action against a lorry ban in Cumbria, used the legal system to delay the Windsor cordon lorry ban and has said that the night and weekend ban in London will increase the price of goods in the shops.
-Scare tactics help only to damage the industry's reputation. Increasingly, local authorities are ceasing to believe the industry's estimates of the various lorry control schemes because their reputation is now so tarnished."
Lester says that in Melton Mowbray, a toWn in which petfood manufacture is the main industry, a manufacturer stored goods on the outskirts of the town — often in premises with other names — and ran shuttle deliveries of heavy lorries at night. Public complaints were met by threats to move the business to Grantham and Peterborough, and it was only alter these threats failed to materialise and the company demanded that a listed building be removed to improve a road junction that the county council was spurred into action against the company.
'This pressure, despite opposition from the county engineer, and pressure front the firm's top management (culminating in a transatlantic phone call from the firm's president to 'get these women off my back') resulted in a change of policy."
The outlying stores were closed and a rail-linked finished goods warehouse has been built.
In ['Inure, he argues that Britain will impose stricter controls on the use of lorries, but suggests that the industry could lessen their impact if it does something now.
"If the industry pursues its existing policy of fighting every inch of the way against any step which might add a penny to its costs and putting forward solutions which are completely unrealistic. (such as large-scale urban road building) it must expect that antagonism and mistrust towards it will continue to grow and that the steps taken to contain lorry problems will become more drastic."