Sales now 25pc below last year
19th October 1985
Page 16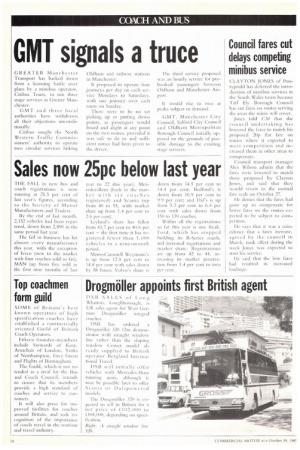 Page 16, 19th October 1985 —
Sales now 25pc below last year
Close
THE FALL in new bus and coach registrations is now running at 25.5 per cent of last year's figures, according to the Society of Motor Manufacturers and Traders.
By the end of last month, 2,152 vehicles had been registered, down from 2,890 in the same period last year.
The fall in business has hit almost every manufacturer this year, with the exception of Iveco (new to the market with four coaches sold so far), MAN (up from five sold in the first nine months of last year to 22 this year), Mercedes-Benz (hack in the mark et with six coaches registered) and Scania (up from 41) to 55, with market share up from 1.4 per cent to 2.6 per cent).
Leyland's share has fallen from 43.7 per cent to 411.6 per cent — the first time it has registered fewer than 1,000 vehicles in a nine-month period.
Metro-Caminell Weymann's is up from 12.8 per cent to 14.8 per cent with sales down by 58 buses; Volvo's share is down from 14.5 per cent to 14.4 per cent; Bedford's is down from 10.9 per cent to 9.9 per cent; and Oars is up from 5.2 per cent to 6.4 per cent with sales down from 150 to 139 coaches.
Within all the registrations so far this year is one freak. Ford, which has stopped building its R-Series coach, and increased registrations and market share. Registrations are up from 42 to 44, increasing its market penetration from 1.4 per cent to two per cent.