A Busman's Holiday
19th May 1950
Page 55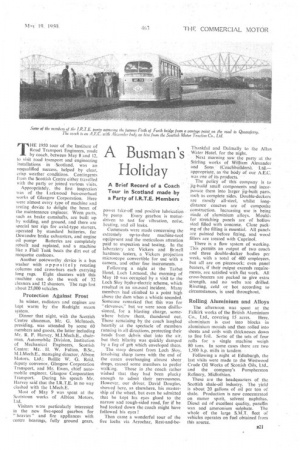 Page 55, 19th May 1950 —
A Busman's Holiday
Close
A Brief Record of a Coach Tour in Scotland made by a Party of I.R.T.E. Members THE 1950 tour of the Institute of Road Transport Engineers, made by coach, between May 8 and 12, to visit road transport and engineering installations in -Scotland, was an unqualified success, helped by clear, crisp weather conditions. Contingents from the Scottish Centre either travelled with the party or joined various visits.,
Appropriately, the first inspection was of the Larkwood bus-overhaul works of Glasgow Corporation. Here were almost every type of machine and testing device to delight the heart of the maintenance engineer. Worn parts, such as brake camshafts, are built up by welding, and ground, and there are special test rigs for axial-type starters, operated by standard batteries, for Dewandre brake exhausters, and engine oil pumps' Batteries are completely rebuilt and replatecl, and a machine like a Flail Tank beats the dirt out of moquette cushions.
Another noteworthy device is a bus washer with oppositely rotating columns and cross-bars each carrying long rags. Eight shunters with this machine can do the work of 32 cleaners and 12 shunters. The rags last about 25,000 vehicles.
Protection Against Frost
In winter, radiators and engines are kept warm by the Radright steam system.
Dinner that night, with the Scottish Centre chairman, Mr. G. McIntosh, presiding, was attended by some 60 members and guests, the latter including Mr. R. F. Harvey, M.I.Mech.E., chairman, Automobile Division, Institution of Mechanical Engineers, Scottish Centre; Mr.. H. W. Fulton, B.Sc., M.1.1"vlech.E., managing director, Albion Motors. Ltd.; Baillie W. G. Reid, deputy convenor, Glasgow Corporation Transport, and Mr. Ewen, chief automobile engineer, Glasgow Corporation Transport. During his speech Mr. Harvey said that the I.R.T.E. in no way clashed with the I.Mech.E.
Most of May 9 was spent at the Scotstoun works of Albion Motors, Ltd.
Visitors were particularly interested in the new five-speed gearbox for "heavies" and fire appliances with centre bearings, fully ground gears, power take-off and positive lubrication
by pump. Every gearbox is motordriven to test for Vibration, noise, heating, and oil leaks.
Comments were made concerning the extremely up-to-date machine-tool ecittipment and the meticulous attention paid to inspection and testing. In the laboratory are Vickers and Brinell hardness testers, a Vickers 'projection microscope convertible for use With a camera, and other fine instruments.
Following a night at the Tarbet Hotel, Loch Lomond, the morning of May 10 was occupied by a visit to the Loch Sloy hydro-electric scheme, which resulted in an iimisual incident. Many members had climbed to a point high above the dam when a whistle sounded. Someone remarked that this was for "elevenses," but we were soon disillusioned, for a blasting charge, somewhere below thern, thundered out. Those remaining by, the coach laughed heartily at the spectacle of members running in all directions, protecting their heads from debris shot into the air, but their hilarity was quickly damped by a fog of grit which enveloped them.
The steep descent from Loch Slay, involving sharp .turns with the end of the coacn overhanging almost sheer drops, caused some members to prefer walkMg. Those in the coach rather wished that they had been plucky enough to admit their nervousness. However, our driver, David Douglas, showed here, as elsewhere, his mastership of the wheel, but even he admitted that he kept his eyes glued to the narrow and rough-sided road, for if he had looked down the coach might have followed his eyes !
Then came a wonderful tour of the five lochs via Arrochar, Rest-and-be Thankful and Dalmally to the Allan Water Hotel, for the night.
• Next morning saw the party at the Stirling works of William Alexander and Sons, (Coachbuilders), Ltd.— appropriate, as the body of our A.E.C. was one of its products.
The policy of this company is to jig-build small components and incorporate them into larger jig-built parts, such as complete sides. Double-deckers are mostly all-steel, whilst longdistance coaches arc of composite construction. Increasing use is being Made . of aluminium alloys. Moulds for stretching panels are of hollow steel filled with concrete. Close packing of the filling is essential. All panels are painted before fitting, and wood fillers are treated with Cuprinol.
There is a flow system of working. This permits an output of two coach and three double-decker bodies per week, with a total of 400 employees. but all are on piecework; even panel beaters, if their output exceeds requirements, are satisfied with flat work. All cross-bearers are packed to give extra strength, and no webs are drilled. Riveting, cold or hot according to circumstances, is used throughout.
Rolling Aluminium and Alloys
The afternoon was spent at the Falkirk works of the British Aluminium
Co., Ltd., covering 15 acres. Here, aluminium is cast into blocks in aluminium moulds and then rolled into sheets and coils with thicknesses down to fine foil. Some of the sets of four rolls for a single machine weigh 80 tons. In some .cases there are two 1,500 h.p. mills in, tandem. •
Following a night at Edinburgh, the last visits were made to the Westwood Crude Oil Works of Scottish Oils, Ltd., and the company's Pumpherston Refinery, Midlothian.
These ate the headquarters of the Scottish shale-oil industry. The yield is about 20 gallons of oil per ton of shale. Production is now concentrated on motor spirit, solvent naphthas. Diesel oil of excellent quality, paraffin wax and ammonium sulphate. The whole of the large S.M.T. fleet of vehicles operates on fuel obtained from this source.