Work the R.H.E. Cannot Do By E. H. B. Palmer, O.B.E. F.R.S.A. I HAVE been known to claim that
19th May 1950
Page 51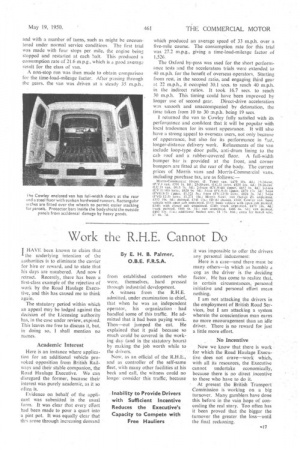 Page 51, 19th May 1950 —
Work the R.H.E. Cannot Do By E. H. B. Palmer, O.B.E. F.R.S.A. I HAVE been known to claim that
Close
the underlying intention of the authorities is to eliminate the carrier for hire or reward, and to state that his days are numbered. And now retract. Recently, there has been a first-class example of the rejection of work by the Road Haulage Executive, and this has caused me to think again.
The statutory period within which an appeal may be lodged against the decision of the Licensing authority has, in the case under review, expired. This leaves me free to discuss it, but, in doing so, I shall mention no names.
Academic Interest
Here is an instance where application for an additional vehicle provoked opposition from British Railways and their stable companion, the Road Haulage Executive. We can disregard the former, because their interest was purely academic, as it so often is.
Evidenceon behalf of the applicant was submitted in the usual form. It was clear that every effort had been made to pour a quart into a pint pot. It was equally clear that this arose through increasing demand
from established customers who were, themselves, hard pressed through industrial development.
A witness from the R.H.E. admitted, under examination in chief, that when he was an independent operator, his organization had handled some of this traffic. He admitted that it had been paying work. Then-out jumped the cat. He explained that it paid because so much could be covered in the working day. (and in the statutory hours) by making. the job worth while to the drivers.
Now, as an official of the R.H.E., and as controller of the self-same fleet, with many other facilities at his beck and call, the witness could no longer consider this traffic; because it was impossible to offer the drivers any personal inducement.
Here is a case-and there must be many others-in which as humble a cog as the driver is the deciding factor. He has come to realize that, in certain circumstances, personal initiative and personal effort mean nothing.
I am not attacking the drivers in the employment of British Road Services, but I am attacking a system wherein the conscientious man earns no more encouragement than an idle driver. There is no reward for just a little more effort.
No Incentive
Now we know that there is work for which the Road Haulage Execu-live does not crave-work which, with all its resources, the Executive cannot undertake economically, because there is no direct Incentive to those who have to do it • At present the British Transport Comfnission is working on a big turnover. Many gamblers have done this before in the vain hope of concealing the real story. Too often has it been proved that the bigger the -turnover the greater the loss-until the final reckoning.