Ulster Might Hand Back Haulage R EPLYING to a question asked
19th May 1950
Page 37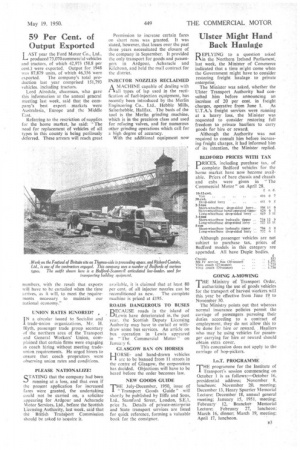 Page 37, 19th May 1950 —
Ulster Might Hand Back Haulage R EPLYING to a question asked
Close
in the Northern Ireland Parliament, last week, the Minister of Commerce indicated that a time might come when the Government might have to consider restoring freight haulage to private enterprise,
The Minister was asked, whether the Ulster Transport Authority had consulted him before announcing an increase of 20 per cent. in freight charges, operative from June 1. As U.T.A.'s freight services were running at a heavy loss, the Minister was requested to consider restoring full freedom to private hauliers to carry goods for hire or reward.
Although the Authority was not required to consult him before increasing freight charges, it had informed him of its intention, the Minister replied.
BEDFORD PRICES WITH TAX DRICES, including purchase tax, of
complete Bedford vehicles for the home market have now become available. Prices of bare chassis and chassis and cabs were given in "The Commercial Motor" on April 28.
E s. d.
10-12-ettt.
Va n 416 0 7 30-Co I.
Drop-sided lorry • • 451 9 5 2-3-ton Short-wheelbase drop-sided lorry.. 598 15 0 Short-wheelbase hand-operated tipper 624 6 1 Long-wheelbase drop-sided lorry .. 619 3 11 3-4-ton Short-wheelbase hydraulic tiPPer .. 754 12 9 Long-wheelbase drop-sided lorry 722 13 11 5-ton
Short-wheelbase hydraulic timer • • 704 5 0
Long-wheelbase drop-sided lorry 752 6 1
Although passenger vehicles are not subject to purchase tax, prices of Bedford models in this category are appended. All have Duple bodies.
Chassis
.
MIc.IV service % (30-seater) ■1.,; 1.571 Vista coach (27-sealer)
Vista coach (19-seater) .. 1,736
GOING A-MOWING
THE Ministry of Transport Order, authorizing the use of goods Vehicles for the transport of harvest Workers will this year be effective from June 19 to November 30.
The Ministry points out that whereas normal insurance policies permit the carriage of passengers pursuing their duties according to a contract of employment, they do not allow this to be done for hire or reward. . Hauliers who may be using vehicles for passenger carrying for hire or reward should obtain extra cover.
This concession does not apply to the carriage of hop-pickers.
I.o.T. PROGRAMME
THE programme for the Institute of Transport's session commencing on October 1 is as follows:—October 16, presidential address; November 8, luncheon; November 20, meeting; December 13, Henry Spurrier Memorial Lecture; December 18, annual general meeting; January 15, 1951, meeting: February 12, Brancleei.. Mertiorial Lecture; February 27, luncheon; March 16, dinner; March 19, meeting; April 17, luncheon.