10 Comets Replace 40 Bullock Carts
19th May 1950
Page 34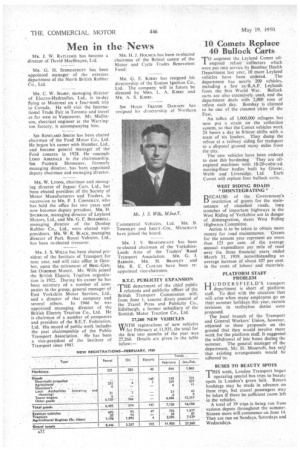 Page 34, 19th May 1950 —
10 Comets Replace 40 Bullock Carts
Close
To augment the Leyland Comet oilengined refuse collectors which were put into service by Bombay Health Department last year, 10 more Leyland vehicles have been ordered. The department has nearly 200 vehicles, including a few ex-R.A.F. Leylands from the first World War. Bullock carts are also extensively used, and the department deals with 2,000 tons of refuse each day. Bombay is claimed to be one of the cleanest cities of the East.
An influx of 3,000,000 refugees has now put a strain on the collection system, so that the Comet vehicles work 24 hours a day in 8-hour shifts with a team of six loaders. They dump the refuse at a railway siding for transport to a disposal ground many miles from the city.
The new vehicles have been ordered to ease this burdening. • They are oilengined machines with 18-20-cubic-yd. moving-floor bodies built by Glover, Webb and Liversidge. Ltd. Each Cornet will replace four bullock carts.
WEST RIDING ROADS "DISINTEGRATING" BECAUSE of the Government's restriction of grants for the maintenance of classified roads, long stretches of important highways in the West Riding of Yorkshire are in danger of disintegration, states West Riding Highways Committee.
Action is to be taken to obtain more money for road maintenance. Grants for the present year represent no more than 125 per cent. of the average annual expenditure per mile of road over the three financial years ended March 31, 1939, notwithstanding an average increase of about 107 per cent. it the costs of labour and materials.
PLATFORM STAFF PROBLEM
HU ODER SF1ELD'S transport department is short of platform staff. To deal with the situation that will arise when many employees go on their summer holidays this year, certain revisions in trolleybus duties were proposed.
The local branch of the Transport and General Workers' Union, however, objected to these proposals on the ground that they would involve more work for the platform staff. It suggested the withdrawal of Late buses during the summer. The general manager of the department, Mr. H. Muscroft, has saif.t that existing arrangements would be adhered to.
BUSES TO BEAUTY SPOTS
THIS week, London Transport began operating special bus trips to beauty spots in London's green belt. Return bookings may be made in advance on these trips, but casual passengers may be taken if there be sufficient room left in the vehicles.
A total of 39 trips is being run from various depots throughout the summer. Sixteen more will commence on June 14. They are run on Sundays, Saturdays and Wednesdays.