Favour for S.M.T Causes Dispute
19th May 1950
Page 33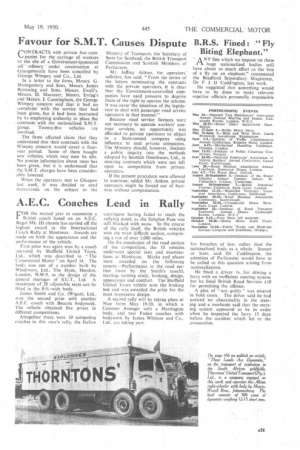 Page 33, 19th May 1950 —
Favour for S.M.T Causes Dispute
Close
rONTRACTS with private bus corn panies for the carriage of workers to the site of a Government-sponsored oil refinery under construction at Grangemouth have been cancelled by George Wimpey and Co., Ltd. •
In a letter' to the firms, Messrs. G. Montgomery and Sons, Messrs. James Browning and Sons, Messrs.Ewell's. Messrs.. D. Macateer, Messrs. Irving's and Messrs. J. Cunningham, the George Wimpey concern said that it had no complaint with the service That had been given, but it had been instructed by its employing authority to place the contracts with the nationalized S.M.T. group. Twenty-five vehicles are involved.
The firms affected claim that they understand that their contracts With the Wimpey concern would cover a fouryear period. Some of them bought new vehicles, which may now be idle. No precise information about rates has been given, but it is understood that the S.M.T. charges have been considerably lowered.
When the operators met in Glasgow last week, it was decided to send memoranda on the subject to the
Ministry of Transport, the Secretary of State for Scotland, the British Transport Commission and Scottish Members of Parliament.
Mr. Jeffrey Aitken, the operators' solicitor, has said: "From the terms of the letters terminating the contracts with the private operators, it is clear that the Government-controlled companies have used pressure to deprive them of the right to operate the scheme. It was never the intention of the legislature to deal with passenger road service operators in that manner."
Because road service licences Were not necessary to operate workers' contract services, no opportunity was afforded to private operators to object to a State-owned company using influence to oust private companies. The Ministry should, however, institute a public inquiry into the methods adopted by Scottish Omnibuses, Ltd., in securing contracts which were not left open to competition from private operators.
If the present procedure were allowed to continue, added Mr. Aitken, private operators might be forced out of business without compensation.