B.R.S. Fined: ," Fly Biting Elephant."
19th May 1950
Page 33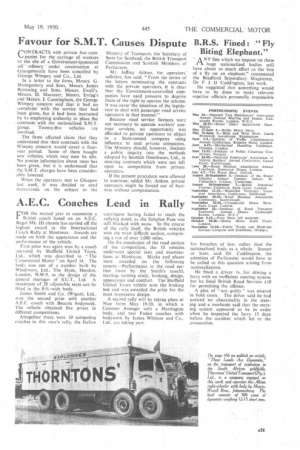 Page 33, 19th May 1950 —
B.R.S. Fined: ," Fly Biting Elephant."
Close
ANY fine which we impose on these huge nationalized bodies will have about as much effect as the bite of a fly on an elephant," commented the Bradford Stipendiary Magistrate, Dr F J. 0 Coddington, last week.
He suggested that something would have to be done to make relevant superior officials personally responsible for breaches of law,rather than the nationalized body as a whole. Sooner or later, said Dr. Coddington, the attention of Parliament would have to be called to this question arising from nationalization.
He fined a driver Is. for driving a lorry with an inefficient steering system, but he fined British Road Services t:10 for permitting the offence.
A plea of "not 'guilty" was entered in both eases, The driver said he -had noticed no abnormality in the steering and a mechanic said that the-steering system appeared to be in order when he inspected the lorry 13 days before the accident which led to the prosecution.