One
19th May 1950
Page 31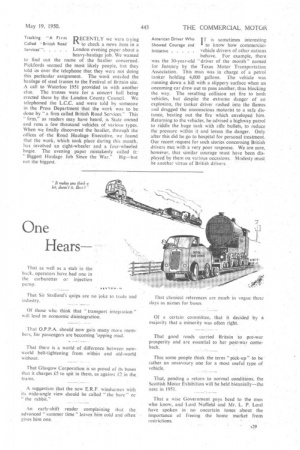 Page 31, 19th May 1950 —
One
Close
Hears—
That as well as a stab in the back, operators have had one in the carburetter or injection pump.
That Sir Stafford's quips are no joke to trade and industry.
Of those who think that "transport integration" will lead to economic disintegration.
That 0.P.P.A. should now gain many more members, for passengers are becoming 'opping mad.
That there is a world of difference between newworld belt-tightening from within and old-world without.
That Glasgow Corporation is so proud of its buses that it charges .£5 to spit in them, as against .£2 in the trains.
A suggestion that the new E.R.F. windscreen with its wide-angle view should be called "the hare" or "the rabbit."
An early-shift reader complaining that the advanced "summer time" leaves him cold and often gives him one: That classical reterences are much in vogue these days as names for buses.
Of a certain committee, that it decided by a majority that a minority was often right. • That good roads carried Britain to pre-war prosperity and are essential to her pot-war comeback.
That some people think the term " pick-up" to be rather an unsavoury one for a most useful type of vehicle.
That, pending a return to normal conditions, the Scottish Motor Exhibition will be held biennially—the next in 1951.
That a wise Government pays heed to the men whO know, and Lord Nuffield and Mr. L. P. Lord have spoken in no uncertain tones about the importance of freeing the home market from restrictions.