Problems of the
19th May 1933
Page 58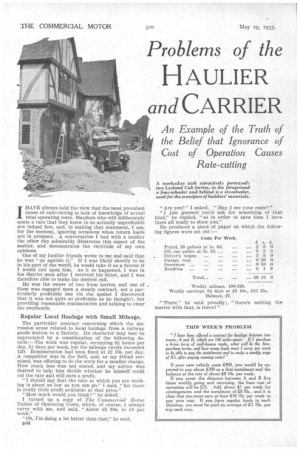 Page 59
Page 58, 19th May 1933 —
Problems of the
Close
HAULIER
and CARRIER
An Example of the Truth of the Belief that Ignorance of Cost of Operation Causes Rate-cutting
IHAVE always held the view that the most prevalent cause of rate-cutting is lack of knowledge of actual total operating costs. Hauliers who will deliberately quote a rate that they know to be actually unprofitable are indeed few, and, in making that statement, I am, for the moment, ignoring occasions when return loads are in prospect. A conversation I had with a haulier the other day admirably illustrates this aspect of the matter, and demonstrates the rectitude of my own
opinions. , One of my haulier friends wrote to me and said that he was " up against it." If I was likely shortly to be in his part of the world, lie would take it as a favour if I would call upon him. As it so happened, I was in his district soon after I received his letter, and I was therefore able to make the desired call.
He was the owner of two 5-ton lorries, and one of them was engaged upon a steady contract, not a particularly profitable one (in the upshot I discovered that it was not quite so profitable as he thought), but providing reasonable remuneration and helping to clear the overheads.
Regular Local Haulage with Small Mileage.
The particular contract concerning Which the discussion arose related to local haulage from a railway goods station to a factory. Its character may best be appreciated by a consideration of the following details :—The work was regular, occupying 8i. hours per day, 51 days per week, but the mileage rarely exceeded 120. Remuneration had been fixed at £2 10s. per day. A competitor was in the field, and, as my friend surmised, was offering to do the work for a smaller charge. How much less was not stated, and my advice was desired to help him decide whether he himself could cut the rate and still earn a profit.
"I should say that the rate at which you are working is about as low as you can go," I said, "for there is really little profit available at that price."
" How much would you think?" he asked.
I turned up a copy of The Commercial Motor Tables of Operating Costs, which, of course, I always carry with me, and said, "About £3 10S. to 14 per week."
"Oh, I'm doing a lot better than that," he said.
B44 "Are you?" I asked. ." May I see your costs?"
" I just guessed you'd ask for something of that kind," he replied, " so in order to save time I hove them all ready to show you."
He produced a piece of paper on which the following figures were set out :—
"It's all right," I answered, "so far as it goes, hut, unfortunately, it doesn't go far enough."
"Why, isn't it all there?"
" Not by a long chalk. Don't you ever buy tyres for this vehicle; does it cost you nothing for repairs ; and what about depreciation and interest on first cost? "
He looked a little crestfallen at that and answered, "Well, as a matter of fact, I've not had the vehicle very long; I bought it second-hand a short time ago, and I've had no tyres to replace and it has cost me nothing for repairs. I'd forgotten all about depreciation and I don't quite see what you mean by interest on first cost."
"But surely you realize that you will have to buy tyres soon, and that there is likely to be expenditure on repairs? "
"To tell you the truth, I must confess, now, that these figures were got out in rather a hurry. I just said to my man, • Let me know what our lorry is costing us a week,' and he made that rough draft for me."
"And you were seriously thinking of revising your price in a downward direction with no better knowledge of your actual cost and profit than that afforded by this sketchy schedule?"
" I wasn't going to do anything, if I could avoid it, until I'd had a word with you. Possibly, if I hadn't been able to rely on your help, I might have gone into it a little more carefully, but I'm not sure. Can you give me some idea what these extra costs are likely . to be?"
"I can give you some idea of what your actual costs are going to be. I would prefer not to hear you call them 'extra costs,' if you don't mind."
"All right," he said ; "go ahead." • "If you don't mind, I'll set out a full schedule of costs as I have no doubt they will be,, when you have had the lorry long enough to be able to ,cdlikt 'accurate data." And I' set out a schedule comparable with his own as follows:— "That's a different Story altogether, isn't it?" I queried. He nodded his head and looked rather glum.
"What will happen, then," he asked, "if I cut my rate to 45s. per day?"
"That's the easiest question I've liad to answer for a long while,' I responded. "You're simply going to reduce your profit by 5i times 5s.— that is to say, by E1 7s. 64.—so that your gross earnings will be only 1.12 7s. 6d. and your gross profit £2 12s. 6d. What are you going to do about that?"
He hesitated. "I don't quite
know. I don't feel like working for anybody for a gross profit of £2 12s, Gd. per lorry, You see, the other vehicle is used only now and again. I drive it myself. I have been thinking it was earning £4 or £5 a week, but, in view of what you have just said, it may be that-I am wrong, and that it is making me only about £2 a week. I don't see much sense in taking the responsibility of finding work for two lorries and
driving one of them, doing all the clerical work, getting orders, making out accounts and making people pay me what they owe, if all that I get out of it is considerably less than £5 a week. I'll have to think it over, and maybe I'll get in touch with you again. You have made it clear to me that it is better to carry on charging a reasonable rate than to run the risk of working at a loss in an attempt to undercut my competitors."
That goes to show, as I stated at the beginning of this article, that a good deal of rate-cutting results from ignorance. This particular haulier had practically decided to reduce his daily rate from 50s. to 45s. in order to meet competition. So soon as he was made aware of the full extent of his operating costs he began to reconsider that decision. S.T.R.