T HE present Automobile Salon in Geneva, which remains open until
19th March 1948
Page 39
Page 40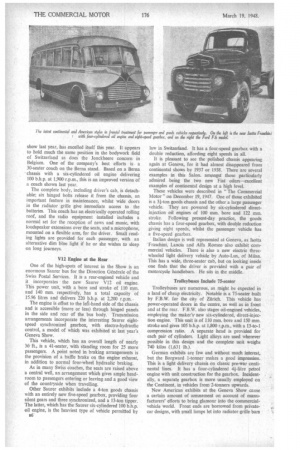 Page 42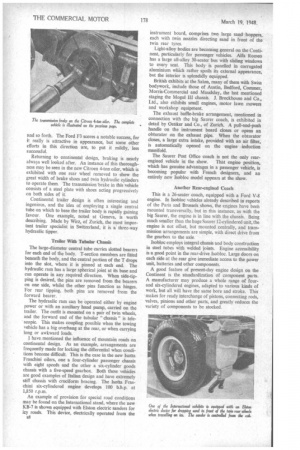 Page 39, 19th March 1948 —
T HE present Automobile Salon in Geneva, which remains open until
Close
Sunday evening, March 21, follows rather too soon after the important motor shows in Paris and Brussels for much novelty to be expected there. Most of the exhibits have already been seen elsewhere, but the Swiss national industry stages several new and interesting commercial vehicles,whilst Swiss coachwork is well worth inspection.
The Salon is much larger than it was last year and it provides a good cross-section of present continental practice in the commercial-vehicle field. British representation is not so strong as it was at Brussels, although in the private-car section it is the largest of all, with 23 British makers exhibiting.
The trend towards multiicylindered engines, so marked a feature of continental design in the early,and middle thirties, has ceased. "Straight eights" no longer appear. "Fours" are, in general, used for all vehicles up to 3i-tonners, and "sixes " for heavy-duty work. By way of an exception to prove this rule, Saurer has this year produced a V12 oil engine. It may be seen mounted in a gigantic coach for the Swiss Post Office authorities.
Oil engines are, of course, used for almost all vehicles above 3-ton payload capacity, and continental oil • engines in general have clean and convincing lines. Designers pay real•attention to small details of accessibility which often help so much in maintenance work. Cooling systems are usually good. Ample water space is provided around valve seatings, fans are large, and radiators are.of.generous proportions, whilst deeply
• finned oil sumps may, be noted lio. many instances. This attention to engine cooling is more necessary on the
Continent than in Great Britain, as mountain districts are so widespread. Main toads that climb uphill steadily for 20 miles at a stretch are normal in many parts of Europe.
Frames are nearly always exceptionally rigid, with deep-section side-members. Cruciform bracing is often employed, but, in any case, cross-members are numerous and substantial. Lad! and Fiat vehicles may be cited as incorporating good examples of frame design on the Continent.
Multi-speed gearboxes have become very popular since the war. Most heavy-duty vehicles have fourspeed gearboxes with double-reduction gear providing eight speeds, whilst in lighter vehicles the transmission usually incorporates a five-speed gearbox with all gears synchronized.
In the matter of suspension, it is rare to find flat springs on a continental commercial chassis. Fiats are an exception to this rule, but most manufacturers adopt springs with a marked camber. On practically all the larger vehicles; substantial helper springs are mounted above the main springs. Independent forward suspension is to be found in many light delivery chassis, these having been developed, in most instances, from privatecar models by the same manufacturers,
Rigidity in Continental Design
The extreme rigidity of continental commercial chassis is in striking contrast with American practice, a fact which one notes particularly when American and continental vehicles are staged side by side, Continental designers carry this idea of rigidity into the bodywork, stiffening body frames to an extent seldom seen in England. British coachhuilders are more inclined to allow a certain suppleness in the body.
Swiss passenger-vehicle' bodywork is good in every way'. It is, in fact, one of the most remarkable features of the Show. There is no straining after effect in the way of pseudo-streamlining, but every inch of interior space is used to the best advantage. Comfort for passengers is studied first, last and all the time.
There are no external frills in a Swiss coach body, but nevertheless it is attractive. Windows are enormous and side pillars are always vertical, as in continental coach bodies in general. The only concession made to the absurd " aerodynamic " craze which has afflicted bodywork for so long is in paintweirk. Curved lines are sometimes painted from front to back along the sides of a body.
The Gangloff concern, the commercial coachwork of which was specially noted in our report of the Swiss u5
show last year, has excelled itself this year. It appears to hold much the same position in the bodywork field of Switzerland as does the Jonckheere concern in Belgium. One of the company's best efforts is a 30-seater coach on the Berna stand. Based on a Berna • chassis with a six-cylindered oil engine delivering 100 b.h.p. at 1,900 r.p.m., this is an improved version of a coach shown last year.
The complete body, including driver's cab, is detachable; six hinged halts release it from the chassis, an important feature in maintenance, whilst wide doors in the radiator grille give immediate access to the batteries. This coach has an electrically operated rolling roof, and the radio equipment installed includes a normal set for the reception of news and music, with loudspeaker extensions over the seats, and a microphone, mounted on a flexible arm, for the driver. Small reading lights are provided for each passenger, with an alternative dim blue light if he or she wishes to sleep on long journeys.
V12 Engine at the Rear One of the high-spots of interest in the Show is an enormous Saurer bus for the Direction Generale of the Swiss Postal Services. It is a rear-engined vehicle and it incorporates • the new Saurer V12 oil engine. This power unit, with a bore and stroke of 110 mm. and 140 mm. respectively, has a total capacity of 15.96 litres and delivers 220 b.h.p. at 2,200 r.p.m. • The engine is offset to the left-hand side of the chassis and is accessible (more or less) through hinged panels in the side and rear of the bus body. Transmission arrangements incorporate the interesting Saurer eightspeed synchronized gearbox, with electro-hydraulic control, a model of which was exhibited at last year's Geneva Show.
This vehicle, which has an overall length of nearly 36 ft., is a 41-seater, with standing room for 25 more passengers. A point noted in braking arrangements is the provision of a baffle brake on the engine exhaust, in addition to normal four-wheel hydraulic braking.
As in many Swiss coaches, the seats are raised above a central well, an arrangement which gives ample headroom to passengers entering or leaving and a good view of the countryside when travelling.
Other Saurer exhibits include a 4-ton goods chassis with an entirely new five-speed gearbox, providing four silent gears and three synchronized, and a 13-ton tipper. The latter, which has the Saurer six-cylindered 100 b.h.p. oil engine, is the heaviest type of vehicle permitted by 136 law in Switzerland. It has a four-speed gearbox with a double reduction, affording eight speeds in all.
It is pleasant to see the polished chassis appearing again at Geneva, for it had almost disappeared from continental shows by 1937 or 1938. There are several examples in this Salon. amongst those particularly admired being the two new Fiat oilers—excellent examples of continental design at a high level.
These vehicles were described in The Commercial Motor on December 19, 19-17. One of those exhibited is a 3-1-ton goods chassis and the other a large passenger vehicle. They are powered by six-cylindered directinjection oil engines of 100 mm. bore and 122 mm. stroke. Following present-day practice, the goods chassis has a four-speed gearbox, with double reduction giving eight speeds, whilst the passPnger vehicle has a five-speed gearbox.
Italian design is well represented at Geneva, as Isotta Fraschini, Lancia and Alfa Romeo also exhibit commercial vehicles. There is also a new electric threewheeled light delivery vehicle by Auto-Lux, of Milan. This has a wide, three-seater cab, but on looking inside one finds that the driver is provided with a pair of motorcycle handlebars. He sits in the middle.
Trolleybuses Indude 75-seater Trolleybuses are numerous, as might be expected in a land of cheap electricity. Notable is a 75-seater built by F.B.W. for the city of Zurich. This vehicle has power-operated doors in the centre, as well as in front and at the rear. F.B.W. also stages oil-engined vehicles, employing the maker'snew six-cylindered, direct-injection engine. This unit is of 110 mm. bore and 150 mm. stroke and gives 105 b.h.p. at 1,800 r.p.m., with a 15-to-1 compression ratio. A separate head is provided for each pair of cylinders. Light alloys are used wherever possible in this design and the complete unit weighs 740 kilos (1,631 lb.).
German exhibits are few and without much interest, but the Borgward 1-tanner makes a good impression. This is a light delivery chassis on classic pre-war continental lines. It has a four-cylindered 41-litre petrol engine with unit construction for the gearbox. Incidentally, a separate gearbox is more usually employed on the Continent, in vehicles from 2-tonners upwards.
New American exhibits at the Geneva Show cause a certain amount of amusement on account of manufacturers' efforts to bring glamour into the commercialvehicle world. Front ends are borrowed from privatecar designs, with small lamps let into radiator grille bars and so forth. The Ford F3 scores a notable success, for it really is attractive in appearance, but some other efforts in this direction am, to put it mildly, less successful.
Returning to continental design, braking is nearly always well looked after. An instance of this thoroughness may be seen in the new Citroen 4-ton oiler, which is exhibited with one rear wheel removed to show the great width of brake shoes and twin hydraulic cylinders to operate them. The transinissionhrake in this vehicle consists of a steel plate with shoes acting progressively on both sides of it.
Continental trailer design is often interesting and ingenious, and the idea of employing a single central tube on which to base the trailer body is rapidly gaining favour. One example, noted at Geneva, is worth describing. Made by Wirz, of Zurich, the most important trailer specialist in Switzerland, it is a three-way hydraulic tipper.
Trailer With Tubular Chassis The large-diameter central tube carries slotted bearers for each end of the body. T-section members are fitted beneath the body, and the central portion of the T drops into the slot, where it is pinned at each end. The hydraulic ram has a large spherical joint at its base and can operate in any required direction. When side-tipping is desired, the pins are removed from the bearers on one side, whilst the other pins function as hinges. For rear tipping, both pins are removed from the forward bearer.
The hydraulic ram can be operated either by engine power or with an auxiliary hand pump, carried on the trailer. The outfit is mounted on a pair of twin wheels, and the forward end of the tubular " chassis " is telescopic. This makes coupling possible when the towing vehicle has a big overhang at the rear, or when carrying long or awkward loads.
I have mentioned the influence of mountain roads on continental design. As an example, arrangements are frequently made for locking the differential when conditions become difficult. This is the case in the new Isotta Fraschini oilers., one a four-cylinder passenger chassis with eight speeds and the other a six-cylinder goods chassis with a five-speed gearbox. Both these vehicles are good examples of Italian design and have extremely stiff chassis with cruciform bracing. The IsoU:a Fraschini six-cylindered engine develops 100 b.h.p. at 1,850 r.p.m.
An example of provision for special road conditions may be found on the International stand, where the new KB-7 is shown equipped with Elston electric sanders for icy roads. This device, electrically operated from the B8 instrument board, comprises two large sand hoppers, each with twin nozzles directing sand in front of the twin rear tyres.
Light-alloy bodies are becoming general on the Continent, particularly for passenger vehicles. Alfa Romeo has a large all-alloy 30-seater bus with sliding windows to every seat. This body is panelled in corrugated aluminium which rather spoils its external appearance, but the interior is splendidly equipped.
British exhibits at the Salon, many of them with Swiss bodywork, include those of Austin, Bedford, Commer, Morris-Commercial and Maudslay, the last mentioned staging the Mogul 111 chassis. J. Brockhouse and Co., Ltd., also exhibits small engines, motor lawn mowers and workshop equipment.
The exhaust baffle-brake arrangement, mentioned in connection with the big Saurer coach, is exhibited in detail by Oetiker and Co., of Zurich. A pull-and-push handle on the instrument board closes or opens an obturator on the exhaust pipe. When the obturator closes, a large extra intake, provided with an air filter, is automatically opened on the engine induction manifold.
The Saurer Post Office coach is not the only rear engined vehicle in the show. That engine position, which has genuine advantages in a passenger vehicle, is becoming popular with French designers, and an entirely new Isobloc model appears at the show.
Another Rear-engined Coach
This is a 26-seater coach, equipped with a Ford V-8 engine. In Isobloc vehicles already described in reports of the Paris and Brussels shows, the engines have been mounted transversally, but in this instance, as with the big Saurer, the engine is in line with the chassis. Being much smaller than the huge Saurer 12-eylindered unit, the engine is not offset, but mounted centrally, and transmission arrangements are simple, with direct drive from the gearbox to the axle.
Isobloc employs integral chassis and body construction in steel tubes With welded joints. Engine accessibility is a good point in the rear-drive Isobloc. Large doors on each side at the rear give immediate access to the power unit, batteries and other components.
A good feature of present-day engine design on the Continent is the standardization Of component parts. A manufacturer may produce a whole range of fourand six-cylindered engines, adapted to various kinds of work, but all will have the same bore and stroke. This -makes for ready interchange of pistons, connecting rods, valves, pinions and other parts, and greatly reduces the variety of components to be stocked.