An Ingenious Cross-country Device
19th March 1948
Page 37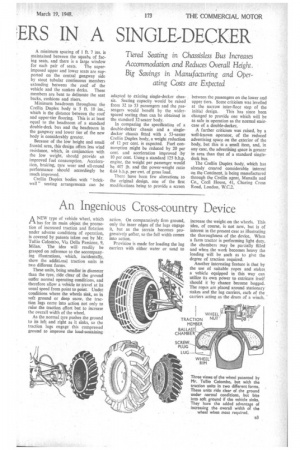 Page 37, 19th March 1948 —
An Ingenious Cross-country Device
Close
ANEW type of vehicle wheel, which has for its main object the promotion of increased traction and flotation under adverse conditions of operation, is covered by patents taken out by Mr. Tullio Colombo, Via Della Passione, 9, Milan. The idea will readily be grasped on reference to the accompanying illustrations, which, incidentally, show the additional traction units in two different forms.
These units, being smaller in diameter than the tyre, ride clear of the ground under normal operating conditions, and therefore allow a vehicle to travel at its usual speed from point to point. Under conditions where the wheels sink, as in soft ground or deep snow, the traction lugs come into action not only to raise the traction effort but to increase the overall width of the wheel.
As the normal tyre pushes the ground to its left and right as it sinks, so the traction lugs engage this compressed ground to improve the load-sustaining action. On comparatively firm ground, only the inner edges of the lugs engage it, but as the terrain becomes progressively softer, so the full width comes into action.
Provision is made for loading the big carriers with either water or sand to increase the weight on the wheels. This idea, of course, is not new, but is of interest in the present case as illustrating the thoroughness of the device. When a farm tractor is performing light duty, The chambers may be partially filled and when the work becomes heavy the loading will be such as to give the degree of traction required_
Another interesting feature is that by the use of suitable ropes and stakes a vehicle equipped in this way can utilize its own power to extricate itself should it by chance become bogged. The ropes are placed around stationary stakes and the lug carriers, each of the . carriers acting as the drum of a winch.