Having Many New Features in Design, the Leyland Cornet Goods
19th March 1948
Page 33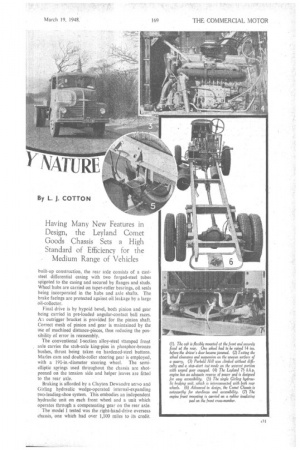 Page 32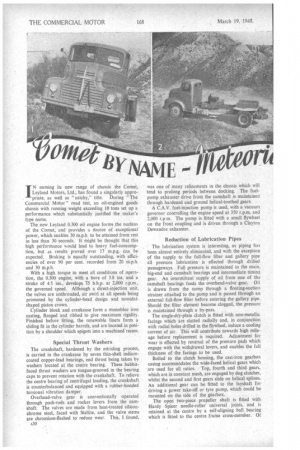 Page 34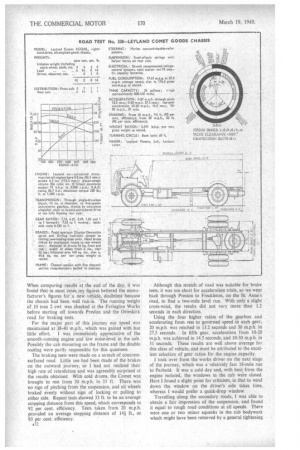 Page 35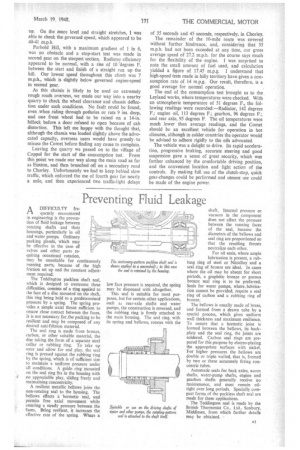 Page 33, 19th March 1948 —
Having Many New Features in Design, the Leyland Cornet Goods
Close
Chassis Sets a High Standard of Efficiency for the Medium Range of Vehicles
By L J. COTTON IN naming its new range of chassis the Comet, Leyland Motors, Ltd., has found a singularly appro
priate, as well as "catchy," title. During "The Commercial Motor" road test, an oil-engined goods chassis with running weight exceeding 10 tons set up a performance which substantially justified the maker's type name.
The new Leyland 0.300 oil engine forms the nucleus of the Comet, and provides a source of exceptional power, which enables 30 m.p.h. to be attained from rest in less than 30 seconds. It might be thought that this high performance would lead to heavy fuel-consumption, but as results proved over 17 m.p.g. can be expected. Braking is equally outstanding, with efficiencies of over 90 per cent. recorded from 20 m.p.h. and 30 m.p.h.
With a high torque to meet all conditions of operation, the 0.300 engine, with a bore of 3.8 ins, and a stroke of 4,5 ins., develops 75 b.h.p. at 2,000 r.p.m., the governed speed. Although a direct-injection unit, the valves are unshrouded, air swirl at all speeds being promoted by the cylinder-head design and toroidalshaped piston crown.
Cylinder block and crankcase form a monobloc iron casting, flanged and ribbed to give maximum rigidity. Finished before fitting, the renewable liners form a sliding fit in the cylinder barrels, and are located in position by a shoulder which spigots into a machined'recess.
Special Thrust Washers The crankshaft, hardened by the nitriding process, is carried in the crankcase by seven thin-shell indiumcoated copper-lead bearings, end thrust being taken by washers located at the centre bearing. These babbitfaced thrust washers are tongue-grooved in the bearing caps to prevent rotation with the crankshaft. To relieve the centre bearing of centrifugal loading, the crankshaft is counterbalanced and equipped with a rubber-bonded torsional vibration damper.
Overhead-valve gear is conventionally operated through push-rods and rocker levers from the camshaft. The valves are made from heat-treated siliconchrome steel, faced with Stellite, and the valve stems are chromium-flashed to reduce wear. This, I found, A30
was one of many refinements in the chassis which will tend to prolong periods between docking. The fuelpump exhauster drive from the camshaft is maintained through hardened and ground helical-toothed gears.
A C.A.V. fuel-injection pump is used, with a vacuum governor controlling the engine speed at 350 r.p.m. and 2,000 r.p m. The pump is fitted with a small flywheel on the front coupling and is driven through a Clayton Dewandre exhauster.
Reduction of Lubrication Pipes
The lubrication system is interesting, as piping has been almost entirely eliminated, and with the exception of the supply to the full-flow filter and gallery pipe all pressure lubrication' is effected through drilled passageways. Full pressure is maintained to the main, big-end and camshaft bearings and intermediate timing gear. An intermittent supply of oil from one of the camshaft bearings feeds the overhead-valve gear. Oil is drawn from the sump through a floating-suction strainer attached to the pump and is passed through an external full-flow filter before entering the gallery pipe. Should the filter element become clogged, the pressure is maintained through a by-pass.
The single-dry-plate clutch is fitted with non-metallic facings which are slotted radially and, in conjunction with radial holes drilled in the flywheel, induce a cooling current of air. This will contribute towards high mileage before replacement is required. Adjustment for wear is effected by reversal of the pressure pads which engage with the withdrawal levers, and enables the full thickness of the facings to be used.
Bolted to the clutch housing, the cast-iron gearbox casing accommodates the wide-faced helical gears which are used for all ratios. Top, fourth and third gears, which are in constant mesh, are engaged by dog clutches, whilst the second and first gears slide on helical splines. An additional gear can be fitted to the layshaft for driving a power take-off or tyre pump, which could be mounted on the side of the gearbox.
The open two-piece propeller shaft is fitted with Hardy Spicer needle-roller universal joints, and is retained at the centre by a self-aligning ball bearing which is fitted to the centre frame cross-member. Of built-up construction, the rear axle consists of a caststeel differential casing with two forged-steel tubes spigoted to the casing and secured by flanges and studs. Wheel hubs are carried on taper-roller bearings, oil seals being incorporated in the hubs and axle shafts. The brake facings are protected against oil leakage by a large Final drive is by hypoid bevel, both pinion and gear being carried in pre-loaded angular-contact ball races. An outrigger bracket is provided for the pinion shaft. Correct mesh of pinion and gear is maintained by the use of machined distance-pieces, thus reducing the possibility of error in reassembly.
The conventional 1-section alloy-steel stamped front axle carries the stub-axle king-pins in phosphor-bronze bushes, thrust being taken on hardened-steel buttons. Marks cam and double-roller steering gear is employed, with a 191-in.-diameter steering wheel. The semielliptic springs used thruughout the chassis are shotpeened on the tension side and helper leaves are fitted to the rear axle.
Braking is afforded by a Clayton Dewandre servo and Girling hydraulic wedge-operated internal-expanding two-leading-shoe system. This embodies an independent hydraulic unit on each front wheel and a unit which operates through a compensating .gear on the rear axle.
The model I tested was the right-hand-drive overseas chassis, one which had over 1,100 miles to its credit. When comparing results at .the end of the day, it was found that in most cases my figures bettered the manu .
facturer's figures for a new vehicle,•cloubtless because the chassis had been well run-in. The running weight of 10 tons 2 cwt was checked at the Farington Works before starting off towards Preston and the Ormskirk road for braking tests.
For the major part of this journey our speed was maintained at 38-40 m.p.h., which was gained with but little effort. I was immediately appreciative of the smooth-running engine and low noise-level in the cab. Possibly the cab mounting on the frame and the double roofing were partly responsible for this quietness.
The braking tests were made on a stretch of concretesurfaced road. Little use had been made of the brakes on the outward journey, so I had not realized their high rate of retardation and was agreeably surprised at the results obtained. With cold drums, the Comet was brought to rest from 30 m.p.h. in 33 ft. There was no sign of pitching from the suspension, and all wheels braked evenly without sign of locking or pulling to either side. Repeat tests showed 33 ft. to be an average stopping distance from this speed, which corresponds to 92 per cent. efficiency. Tests taken from 20 m.p.h. provided an average stopping distance of 14! ft., or Although this stretch of road was suitable for brake tests, it was too short for acceleration trials, so we went back through Preston to Freckleton, on the St. Anne's road, to find a two-mile level run. With only a slight cross-wind, the results did not vary more than 1.2 seconds in each direction.
Using the four higher ratios of the gearbox and accelerating from rest to 'governed speed .in each gear, 20 m.p.h. was reached in 13.2 seconds and 30 m.p.h. in 27.5 seconds. In fifth gear, acceleration from 10-20 m.p.h was achieved in 14.5 seconds, and 10-30 m.p.h. in 31 seconds. These results are well above average for this class of vehicle, and must be attributed to the excellent selection of gear ratios for the engine capacity.
I took over from the works driver on the next stage of the journey, which was a relatively fast 18-mile run to Parbold. It was a cold day and, with heat. from the engine isolated, the windows in the cab were closed. Here I found a slight point for criticism, in that to wind down the window on the driver's side takes time, whereas I would prefer a quick-drop window.
Travelling along the secondary roads, I was able. to obtain a fair impression of the suspension, and found it equal to rough road conditions at all speeds. There were one or two minor squeaks in the cab bodywork which might have been removed by a general tightening up. On the more level and straight stretches, I was able to check the governed speed, which appeared to he 40-41 m.p.h.
Parbold Hill, with a maximum gradient of 1 in 6, was no obstacle and a stop-start test was made in second gear on the steepest section. Radiator efficiency appeared to be normal, with a rise of 10 'degrees F. between the start and finish of a straight run up the hill. Our lowest speed throughout this climb was 7 m.p.h., which is slightly below governed engine-speed in second gear.
As this chassis is likely to be used on extremely rough roads overseas, we made our way into a nearby quarry to check the wheel clearance and chassis deflection under such conditions. No fault could be found, even , when riding through potholes or ruts 9 ins, deep, and one front wheel had to be raised on a 14-in. hillock before a door refused to open because of cab distortion. This left me happy with the thought that, although the chassis was loaded slightly above the advocated capacity, overseas users would have grossly, to misuse the Comet before finding any cause to complain.
Leaving the quarry we passed on to the village of Coppul for the start of the consumption test. From this point we made our way along the main road as far as Buxton, and then branched off on a secondary road to Chorley. Unfortunately we had to keep behind slow traffic, which enforced the use of fourth gear for nearly a mile, and then experienced two traffic-light delays of 35 seconds and 45 seconds, respectively, in Chorley.
The remainder of the 10-mile route was covered without further hindrance, and, considering that 35 m.p.h, had not been exceeded at any time, our gross average speed of 27.2 mph. for the course says much for the flexibility of the engine. I was surprised to note the small amount of fuel used, and calculation yielded a figure of 17.45 m.p.g. I understand that high-speed• tests made in hilly territory have given a consumption rate of 14 m.p.g. Our result, therefore, is a good average for normal operation.
The end of the consumption test brought us to the . Leyland works, where temperatures werechecked. With an atmospheric temperature of 51 degrees F., the following readings were recorded:—Radiator, 142 degrees F.; engine oil, 113 degrees F.; gearbox, 96 degrees F.; and rear axle, 95 degrees F. The oil temperatures were much lower than average readings, and the Comet should be an excellent vehicle for operation in hot climates, although in colder countries the operator would be advised to adhere rigidly to the oils advocated.
The vehicle was a delight to drive. Its rapid acceleration, progressive braking, accurate steering and good suspension gave a sense of great security, which was further enhanced by the comfortable driving position, and the convenient location and light action of the controls. By making full use of the clutch-stop, quick gear-changes could be performed and utmost use could be made of the engine power.