Bitac to be Remodelled on N.R.T.F.
19th March 1948
Page 30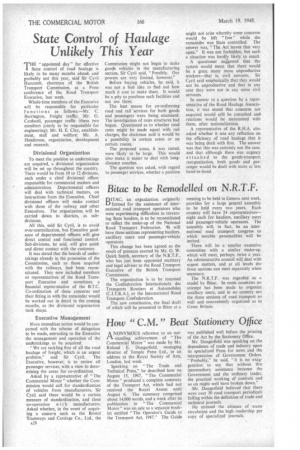 Page 30, 19th March 1948 —
Bitac to be Remodelled on N.R.T.F.
Close
B1TAC, an organintion originally formed for the assistance of international road transport operators who were experiencing difficulties in traversing State borders, is to be reconstituted to reflect the make-up of the National Road Transport Federation. It will have three sections representing hauliers, ancillary users and passenger-vehicle operators.
This change has been agreed as the result of pressure exerted by Mr. G. W. Quick Smith, secretary of the N.R.T.F., who has just been appointed secretary and legal adviser to the Road Transport Executive of the British Transport Commission.
The organization is to be renamed the Confederation Internationale des Transports Routiers et Automobiles (C.I.T.R.A.), or the International Road Transport Confederation.
The new constitution, the final draft of which will be presented to Bitac at a meeting to be held in Geneva next week, provides for a large general assembly to be held every two years. Each country will have 24 representatives— eight each for hauliers, ancillary users and passenger-vehicle operators. The assembly will, in fact, be an inter national road transport congress to which notable personalities will be invited.
There will be a smaller executive committee with a similar make-up, which will meet, perhaps, twice a year. An administrative council will deal with urgent matters, and at all levels the three sections can meet separately when necessary.
The N.R.T.F, was regarded as a model by Ritac. In some countries no • attempt has been made to organize ancillary users, and in no country are the three sections of road transport so well and conveniently organized as in Great Britain.