Simplified Schedules for Haulage Rates
19th March 1948
Page 27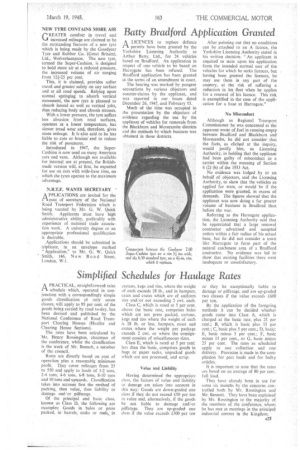 Page 27, 19th March 1948 —
Simplified Schedules for Haulage Rates
Close
APRACTICAL, straightforward rates schedule which, operated in conjunction with a correspondingly simple goods classification of only seven classes, will apply to 95 per cent. of the goods being carried by road to-day, has been devised and published by the National Conference of Road Transport Clearing Houses (Haulier and Clearing House Sections).
The rates have been calculated by 'Mr. Henry Rossington, chairman of the conference, whilst the classification is the work of Mr. Bennett, a member of the council.
Rates are directly based on cost of operation plus a reasonable minimum profit. They cover mileages from 25 to 550 and apply to loads of 1-2 tons, 2-4 tons, 4-6 tons, 6-8 tons, 8-10 tons and 10 tons and upwards. Classification takes into account first the method of packing, then value, then liability to damage and/or pilferage.
Of the principal and basic class, known as Class D, the following are examples: Goods in bales or press packed, in barrels, casks or reels" in cartons, kegs and tins, where the weight of each exceeds 28 lb., and in hampers, cases and crates which are of uniform size and/or not exceeding 2 cwt, each.
Class C, which is rated at 5 per cent. above the basic rate, comprises bales which are not press packed, cartons, kegs and tins where the weight of each is 28 lb. or less, hampers, cases and crates where the weight per package exceeds 2 cwt. or where the consignment consists of miscellaneous sizes.
Class E., which is rated at 5 per cent. less than the basic, comprises goods in bags or paper sacks, unpacked goods which are not processed, and scrap.
Value and Liability Having determined the appropriate class, the factors of value and liability to damage are taken into account in this way: Goods are down-graded one class if they do not exceed £50 per ton in value and, alternatively, if the goods be not liable to damage and/or pilferage. They are up-graded one class if the value exceeds £300 per ton or they be exceptionally liable to damage or pilferage, and are up-graded two classes if the value exceeds £600 per ton.
By the application of the foregoing methods it can be decided whether goods come into Class A, which is charged at the basic rate, plus 25 per cent.; B, which is basic plus 15 per cent.; C, basic plus 5 per cent; D, basic; E, basic minus 5 per cent.; F, basic minus 15 per cent., or G, basic minus 25 per cent. The rates as scheduled apply to one collection and one delivery. Provision is made in the compilation for pan loads and for bulky articles.
It is important to note that the rates are based on an average of 80 per cent. full load.
They have already been in use for some six months by the concerns controlled both by Mr. Rossington and Mr. Bennett. They have been explained by Mr. Rossington to -the majority of the members of the conference, whom he has met at meetings in the principal industrial centres in the Kingdom.