Batty Bradford Application Granted A LICENCES to replace defence ri
19th March 1948
Page 27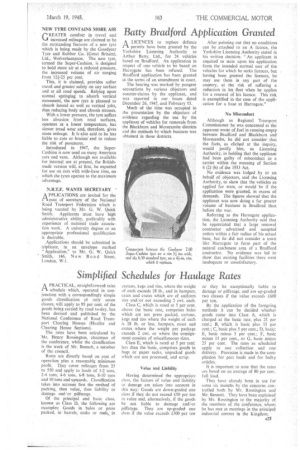 Page 27, 19th March 1948 —
Batty Bradford Application Granted A LICENCES to replace defence ri
Close
permits have been granted by the Yorkshire Licensing Authority to Arthur Batty, Ltd., for 24 vehicles based on Bradford. An application in respect of one vehicle to be based on Harrogate has been refused. The Bradford -application has been granted in the terms of an amendment in court.
The hearing was marked by pungent accusations by various objectors and counter-claims by the applicant, and was reported in our issues dated December 26, 1947, and February 13.
Much of the time was occupied in the presentation by the objectors of evidence regarcEng the use by the applicant of vehicles for removals from the Blackburn and Morecambe districts and the methods by which business was obtained in those districts.. After pointing out that no conditions can be attached to an A licence, the Yorkshire Licensing Authority stated in his written decision, An applicant is required to state upon his application form the intended normal user of the vehicles for which he seeks licences, but having been granted the licences, he may use them in any part of the country, at the risk of suffering a reduction in his fleet when he applies for a renewal of his licence. This risk is exemplified in the case of the application for a base at Harrogate."
No Misconduct
Although as Regional Transport Commissioner he was concerned at the apparent waste of fuel in running empty between Bradford and Blackburn and Morecambe, he did not consider that the facts, as elicited at the inquiry, would justify him, as Licensing Authority, in holding that the applicant had been guilty of misconduct as a carrier within the meaning of Section 6 (2) (b) of the 1933 Act.
No evidence was lodged by or on behalf of objectors, said the Licensing Authority, to show that the -vehicles as applied for were, or would be if the application were granted, in excess of demands. The figures showed that the applicant was now doing a far greater volume of business in Bradford than before the war_
Referring to the Harrogate application, the Licensing Authority said that he appreciated that a large removal contractor advertised and accepted orders within a fair radius of his actual base, but he did not consider a town like biarrogate to form part of the natural catchment area of a Bradford contractor. No evidence was led to show that existing facilities there were inadequate or unsatisfactory.