30 m.p.h. for " Heavies ": Minister Agrees to Increase
19th March 1948
Page 24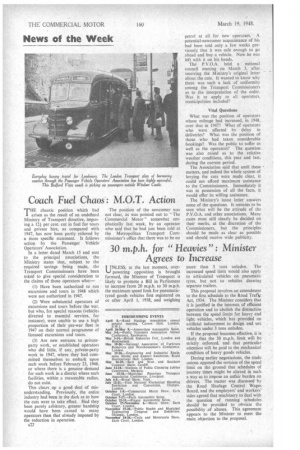 Page 24, 19th March 1948 —
30 m.p.h. for " Heavies ": Minister Agrees to Increase
Close
f 1NLESS, at the last moment, over%) powering opposition is brought forward, the Minister of Transport is likely to promote a Bill in Parliament to increase from 20 m.p.h. to 30 m.p.h. the maximum speed limit for pneumatictyred goods vehicles first registered on or after April 1, 1938, and weighing more than 3 tons unladen. The increased speed limit would also apply to articulated vehicles on pneumatic tyres, but not to vehicles drawing separate trailers.
This proposal involves an amendment to the first schedule to the Road Traffio Act, 1934. The Minister considers that it is justified in the interests of efficient operation and to abolish the distinction between the speed limits for heavy and light vehicles, which has provided an artificial inducement to design and use vehicles under 3 tons unladen.
If the proposal becomes effective, it is likely that the 30 m.p.h. limit will be strictly enforced, and that particular attention will be paid to the mechanical condition of heavy goods vehicles.
During earlier negotiations, the trade unions opposed the revision of the speed limit on the ground that schedules of journey times might be altered in such a way as to impose an unfair burden on drivers. The matter was discussed by the Road Haulage Central Wages Board, and the employers' and workers' sides agreed that machinery to deal with the question of running schedules should be provided to obviate the possibility of abuses. This agreement appears to the Minister to meet the main objection to the proposal.