One
19th March 1948
Page 23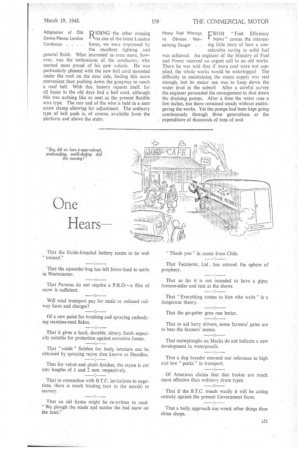 Page 23, 19th March 1948 —
One
Close
Hears-
That the Exide-Ironclad battery seems to be well " trained."
That the squander-bug has left foster-land to settle in Westminster.
That Parsons do not require a P.R.O.4—a film of snow is sufficient.
Will road transport pay for static or reduced railway fares and charges?
Of a new paint for brushing and spraying embodying stainless-steel flakes.
That it gives a hard, durable, silvery finish especially suitable for protection against corrosive fumes.
That " suede " finishes for body interiors can be obtained by spraying rayon dust known as Decofloc.
That for velvet and plush finishes, the rayon is cut into lengthsof 1 and 2 mm. respectively.
That in connection with B.T.C. invitations to negotiate, there is much binding (not in the marsh) to secrecy.
That an old hymn might be re-written to read: "We plough the roads and scatter the bad snow on the land." "Thank you" in music from Chile.
That Tecalemit. Ltd , has entered the sphere of prophecy.
That so far it is not intended to have a gipsy fortune-teller and tent at the shows.
That "Everything comes to him who waits" is a dangerous theory.
That the go-getter goes one better.
That to aid lorry drivers, some farmers' gates are to bear the farmers' names.
That snowploughs on Macks do not indicate a new development in waterproofs.
That a dog breeder misread our reference to high and low " peaks " in transport.
Of American claims that disc brakes are much more effective than ordinary drum types.
That if the B.T.C. treads warily it will be acting entirely against the present Government form.
That a bully approach can wreck other things than china shops.