A Shock to Coachbuilders
19th March 1948
Page 22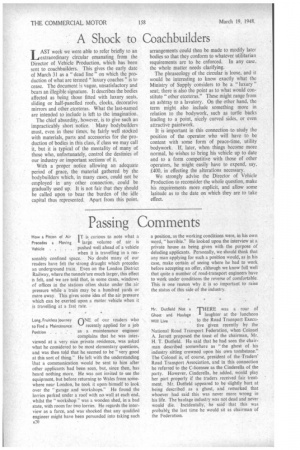 Page 22, 19th March 1948 —
A Shock to Coachbuilders
Close
IAST week we were able to refer briefly to an A extraordinary circular emanating from the Director of Vehicle Production, which has been sent to coachbuilders. This gives the early date of March 31 as a "dead line" on which the production of what are termed "luxury coaches " is to cease. The document is vague, unsatisfactory and bears an illegible signature. It describes the bodies affected as being those fitted with luxury seats. sliding or half-panelled roofs, clocks, decorative mirrors and other etceteras. What the last-named are intended to include is left to the imagination.
The chief absurdity, however, is to give such an impracticably short notice. Many bodybuilders must, even in these times, be fairly well stocked with materials, parts and accessories for the production of bodies in this class, if class we may call it, but it is typical of the mentality of many of those who, unfortunately, control the destinies of our industry or important sections•of it.
With a proper notice allowing an adequate period of grace, the material gathered by the bodybuilders which, in many cases, could not be employed in any other connection, could be gradually used up. It is not fair that they should be called upon to bear the burden of the idle capital thus represented. Apart from this point, arrangements could then be made to modify later bodies so that they conform to whatever utilitarian requirements are to be enforced. In any case, the whole matter needs clarifying.
The phraseology of the circular is loose, and it would be interesting to know exactly what the Ministry of Supply considers to be a " luxury " seat; there is also the point as to what would constitute "other etceteras." These might range from an ashtray to a lavatory. On the other hand, the term might also include something more in relation to the bodywork, such as turtle backs leading to a point, nicely curved sides, or even attractive paintwork.
It is important in this connection, to study the position of the operator who will have to be content with some form of peace-time, utility bodywork. If, later, when things become more normal, he wishes to bring his vehicle up to date and to a form competitive with those of other operators, he might easily have to expend, say, £400, in effecting the alterations necessary.
We strongly advise the Director of Vehicle Production to reconsider the whole question, make his requirements more explicit, and allow some latitude as to the date on which they are to take effect.