Promises from the Executive
19th March 1948
Page 21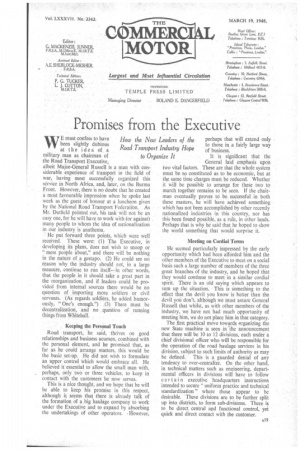 Page 21, 19th March 1948 —
Promises from the Executive
Close
Keywords :
WE must confess to have been slightly dubious at the idea of a military man as chairman of the Road Transport Executive, albeit Major-General Russell is • a man with con siderable experience of transport in the field of war, having most successfully organized this service in North Africa, and, later, on the Burma Front. However, there is no doubt that he created a most favourable impression when he spoke last week as the guest of honour at a luncheon given by the National Road Transport Federatibn. As Mr. Dutfield pointed out, his task will not be an easy one, for he will have to work with (or against) many people to whom the idea of nationalization in our industry is anathema.
He put forward three points, which were well received. 'These were (1) The Executive, in developing its plans, does not wish to snoop or "mess people about," and there will be nothing in the nature of a gestapo. (2) He could see no reason why the industry should not, in a large measure, continue to run itself—in other words, that the people in it should take a great part in the reorganization, and if leaders could be provided from internal sources there would be no question of importing more soldiers or civil servants. (As regards soldiers, he added humorously, " One's enough.") (3) There must be decentralization, and no question of running things from Whitehall.
, Keeping the Personal Touch Road transport, he said, thrives on good relationships and business acumen, combined with the personal element, and he promised that, as far as he could arrange matters, this would be the basic set-up. He did not wish to formulate an upper control which would embrace all. He believed it essential to allow the small man with, perhaps, only two or three vehicles, to keep in contact with the customers he now serves.
This is a nice thought, and we hope that he will be able to keep his promise in this respect, although it seems that there is already talk of the formation, of a big haulage company to work under the Executive and to expand by absorbing the undertakings of other operators. However, f the perhaps that will extend only . to those in a fairly large way to Organize It It is significant that the General laid emphasis upon two vital factors. These are that the whole system must be so constituted as to be economic, but at the same time charges must be reduced. Whether it will be possible to arrange for these two to march together remains to be seen. If the chairman eventually proves to be successful in both these matters, he will have achieved something which has not been accomplished by other recently nationalized industries in this country, nor has this been found possible, as a rule, in other lands. Perhaps that is why he said that he hoped to show the world something that would surprise it.
Meeting on Cordial Terms He seemed particularly impressed by the early opportunity which had been afforded him and the other members of the Executive to meet on a social basis such a large number of members of the three great branches of the industry, and he hoped that they would continue to meet in a similar cordial spirit. There is an old saying which appears to sum up the situation. This is sbmething to the effect that the devil you know is better than the devil you don't, although we must assure General Russell that whilst, as with other members of the industry, we have not had much opportunity of meeting him, we do not place him in that category. The first practical move towards erganizing the new State machine is seen in 'the announcement that there will be 10 to 12 divisions, each under a chief divisional officer who will be responsible for the operation of the road haulage services in his division, subject to such limits of authority as may be defined. This is a guarded denial of any tendency to over-centralize. On the other hand, in technical matters such as engineering, departmental officers in divisions will have to follow cer tain executive headquarters instructions intended to secure " uniform practice and technical standardization" where those appear to be desirable. These divisions are to be further split up into districts, to form sub-divisions. There is to be direct central and functional control, yei quick and direct contact with the customer.