Q Do we require an hgv driver's licence
19th June 1970
Page 59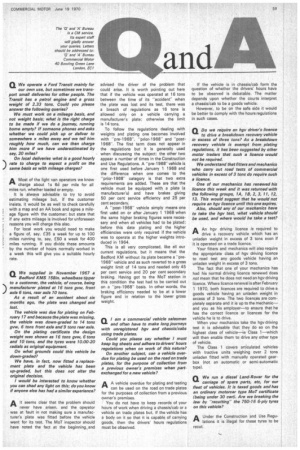 Page 59, 19th June 1970 —
Q Do we require an hgv driver's licence
Close
to drive a breakdown recovery vehicle in excess of three tons? As a breakdown recovery vehicle is exempt from plating regulations, it has been suggested by other motor traders that such a licence would not be required.
We understand that fitters and mechanics who carry out road tests of commercial vehicles in excess of 3 tons do require such a licence.
One of our mechanics has renewed his licence this week and it was returned with the following groups, 1A, 18, 2, 3, 11, 12, 13. This would suggest that he would not require an hgv licence until this one expires.
Also, should any of our mechanics have to take the hgv test, what vehicle should be used, and where would he take a test?
AA An hgv driving licence is required to drive a recovery vehicle which has an unladen weight in excess of 3 tans even if it is operated on a trade licence.
Your fitters and mechanics will also require the appropriate class of hgv driving licence to road test any goods vehicle having an unladen weight in excess of 3 tons.
The fact that one of your mechanics has had his normal driving licence renewed does not mean that he does not need an hgv driving licence. Where licence renewal is after February 1 1970, both Licences are requited to drive a goods vehicle having an unladen weight in excess of 3 tons. The two licences are completely separate and it is up to the mechanic— and you as his employer—to ensure that he has the correct licence or licences for the vehicle he is to drive.
When your mechanics take the hgv driving test it is advisable that they do so on the highest class of vehicle—ie Class 1—which will then enable them to drive any other type of vehicle.
The Class 1 covers articulated vehicles with tractive units weighing over 2 tons unladen fitted with manually operated gearbox )not an automatic or semi-automatic type).