Cl We operate a Ford Transit mainly for our own use,
19th June 1970
Page 59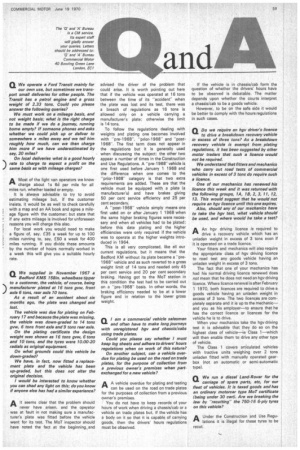 Page 59, 19th June 1970 —
Cl We operate a Ford Transit mainly for our own use,
Close
but sometimes we transport small deliveries for other people. The Transit has a petrol engine and a gross weight of 2.33 tans. Could you please answer the following queries?
We must work on a mileage basis, and not weight basis; what is the right charge to be made if we do a journey, running home empty? If someone phones and asks whether we could pick up or deliver to somewhere x miles away and we tell him roughly how much, can we then charge him more if we have underestimated by say, 20 miles?
On local deliveries what is a good hourly rate to charge to expect a profit on the same basis as with mileage charges?
AMost of the light van operators we know charge about 1s 6d per mile for all miles run, whether loaded or empty.
It is always advisable to try to avoid estimating mileage but, if the customer insists, it would be as well to check carefully with a map and an AA book and agree a mileage figure with the customer; but state that if any extra mileage is involved for unforeseen reasons you will charge this also.
For local work you would need to make a figure of, say, £35 a week for up to 100 miles running to, say, €50 a week for 400 i miles running. If you divide these amounts by the number of hours normally worked in a week this will give you a suitable hourly rate.