management matters
19th June 1970
Page 58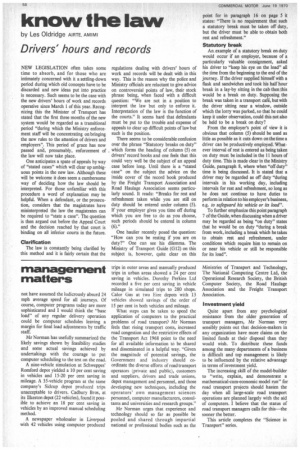 Page 58, 19th June 1970 —
management matters
Close
not have assumed the ludicrously absurd 24 mph average speed for all journeys. Of course, computer programs today are more sophisticated and I would think the "base load" of any regular delivery operation could be computer schedules leaving a margin for final load adjustments by traffic staff.
Mr Norman has usefully summarized the likely savings shown by feasibility studies and some actual savings achieved by undertakings with the courage to put computer scheduling to the test on the road.
A nine-vehicle simulation at Schweppes' Romford depot yielded a 10 per cent saving in vehicles and 15-20 per cent saving in mileage. A 35-vehicle program at the same company's Sidcup depot produced trips unacceptable to drivers. Cadbury Bros, at its Ilkeston depot (22 vehicles), found it possible to achieve an 18 per cent saving in vehicles by an improved manual scheduling method.
A newspaper wholesaler in Liverpool with 42 vehicles using computer produced
trips in outer areas and manually produced trips in urban areas showed a 24 per cent saving in vehicles. Dorothy Perkins Ltd recorded a five per cent saving in vehicle mileage in simulated trips to 280 shops. Calor Gas at two Eire depots with 13 vehicles showed savings of the order of 15 per cent in both vehicles and mileage.
What steps can be taken to speed the application of computers to the practical problems of road transport? Mr Norman feels that rising transport costs, increased road congestion and the restrictive effects of the Transport Act 1968 point to the need for all available information to be shared and disseminated in a helpful way. "Given the magnitude of potential savings, the Government and industry should coordinate the diverse efforts of road transport operators (private and public), customers and suppliers, drivers and trade unions, depot management and personnel, and those developing new techniques, including the operators' own management sciences personnel, computer manufacturers, consultants and universities and research groups."
Mr Norman urges that experience and technology should so far as possible be pooled and shared through impartial national or professional bodies such as the Ministries of Transport and Technology, The National Computing Centre Ltd, the Operational Research Society, the British Computer Society, the Road Haulage Association and the Freight Transport Association.
Investment yield Quite apart from any psychological resistance from the older generation of transport managers, Mr Norman very sensibly points out that decision-makers in any organization have more claims on the limited funds at their disposal than they would wish. To distribute these funds among the many departments of a business is difficult and top management is likely to be influenced by the relative advantage in terms of investment yield.
The increasing skill of the model-builder to "write, explain, and demonstrate a mathematical-cum-economic model run" for road transport projects should hasten the day when all large-scale road transport operations are planned largely with the aid of computers. I believe that the status of road transport managers calls for this—the sooner the better.
This article completes the "Science in Transport" series.