the costing column
19th June 1970
Page 51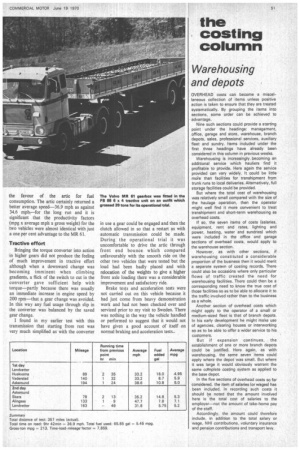 Page 51, 19th June 1970 —
the costing column
Close
Warehousing and depots
OVERHEAD costs can become a miscellaneous collection of Items unless positive action is taken to ensure that they are treated systematically. By grouping the items into sections, some order can be achieved to advantage.
Nine such sections could provide a starting point under the headings: management, office, garage and store, warehouse, branch depots, sales, professional services, auxiliary fleet and sundry. Items included under the first three headings have already been considered in this column in previous weeks.
Warehousing is increasingly, becoming an additional service which hauliers find it profitable to provide. Here again the service provided can vary widely. It could be little rricke than facilities for transhipment from trunk runs to local deliveries. Alternatively, full storage facilities could be provided.
But where the total cost of warehousing was relatively small compared with the size of the haulage operation, then the operator might well find it more convenient to treat transhipment and short-term warehousing as overhead costs.
If so, the seven items of costs (salaries, equipment, rent and rates, lighting and power, heating, water and sundries) which were included in the office and garage sections of overhead costs, would apply to the warehouse section.
However, as with other sections. if warehousing constituted a considerable proportion of the business then it would merit a separate system of costing records. There could also be occasions where only particular flows of traffic created the need for warehousing facilities. There could then be a corresponding need to know the true cost of those facilities so as to be able to allocate it to the traffic involved rather than to the business as a whole.
Another section of overhead costs which might apply to the operator of a small or medium-sized fleet is that of branch depots. In his early development he might 'make use of agencies, clearing houses or interworking so as to be able to offer a wider service to his customers.
But if expansion continues, the establishment of one or more branch depots could be justified. Here again, as with warehousing, the same seven items could apply where the depot was small. But where it was large it would obviously warrant the same coMplete costing system as applied to the base depot.
In the five sections of overhead costs so far considered, the item of salaries (or wages) has been included. In recording such costs it should be noted that the amount involved here is the total cost of salaries to the employer—not the amount of take-home pay of the staff.
Accordingly, the amount could therefore include, in addition to the total salary or wage, NHI contributions, voluntary insurance and pension contributions and transport levy.