meet
19th June 1970
Page 42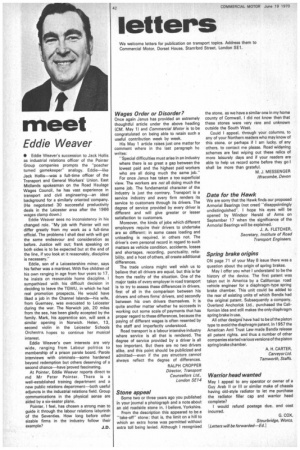 Page 42, 19th June 1970 —
meet
Close
• Eddie Weaver's succession to Jack Hollis as industrial relations officer of the Pointer Group companies prompts the ''poacher tumed gamekeeper" analogy. Eddie—like Jack Hollis—was a full-time officer of the Transport and General Workers' Union. East Midlands spokesman on the Road Haulage Wages Council, he has vast experience in transport and civil engineering—an ideal background for a similarly oriented company. (He negotiated 30 successful productivity deals in the Leicester area after the 1966 wages clamp down.) Eddie Weaver sees no inconsistency in his changed role. "My job with Pointer will not differ greatly from my work as a full-time official. The problems I shall deal with will get the same endeavour and consideration as before. Justice will out; frank speaking on both sides is to be expected but at the end of the line, if you look at it reasonably, discipline is necessary."
Eddie, son of a Leicestershire miner, says his father was a martinet. With five children of his own ranging in age from four years to 17, he insists on reasonable home discipline. I sympathized with his difficult decision in deciding to leave the TGWU, in which he had real promotion prospects. He would have liked a job in the Channel Islands--his wife, from Guernsey, was evacuated to Leicester during the war. The Norwich job, 20 miles from the sea, has been gladly accepted by the family. Mark, his apprentice son, will seek a similar opening in Norwich. Helen, 13, second violin in the Leicester Schools Orchestra, hopes to continue her musical interest.
Eddie Weaver's own interests are very wide, ranging from Labour politics to membership of a prison parole board. Parole interviews with criminals—some hardened beyond redemption but others deserving of a second chance—have proved fascinating.
At Pointer, Eddie Weaver reports direct to md Mr Peter Pointer. There is a well-established training department and a new public relations department----both useful adjuncts in the industrial relations field. Group communications in the physical sense are aided by a six-seater plane.
Pointer, I feel, has chosen a strong man to guide it through the labour relations labyrinth of the Seventies. How long before other sizable firms in the industry follow their