letters
19th June 1970
Page 42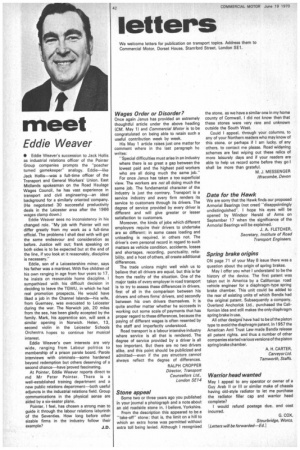 Page 42, 19th June 1970 —
letters
Close
Wages Order or Disorder?
Once again Janus has provided an extremely thoughtful article under the above heading (CM. May 11 and Commercial Motor is to be congratulated on being able to retain such a useful contribution week by week.
His May 1 article raises just one matter for comment where in the last paragraph he writes:
-Special difficulties must arise in an industry where there is so great a gap between the lowest paid and the highest paid workers who are all doing much the same job." For once Janus has taken a too superficial
view. The workers are not all doing much the same job. The fundamental character of the industry is just the contrary. Transport is a service industry and every firm renders its service to customers through its drivers. The degree of service provided by every driver is different and will give greater or lesser satisfaction to customers.
Moreover, the kinds of jobs which different employers require their drivers to undertake are so different; in some cases loading and unloading is required, in others not. The driver's own personal record in regard to such matters as vehicle condition, accidents, losses and shortages, recording, punctuality, reliability, and a host of others, all create additional differences.
The trade unions might well wish us to believe that all drivers are equal, but this is far from the reality of the situation. One of the major tasks of every employer in road transport is to try to assess these differences in drivers, first of all in the comparison between his drivers and others firms' drivers, and secondly between his own drivers themselves. It is quite another matter whether he succeeds in working out some scale of payments that has proper regard to these differences, because the paying of different wages is often resented by the staff and imperfectly understood.
Road transport is a labour intensive industry where service is all that is rendered. The degree of service provided by a driver is all too important. But there are no two drivers alike, and this point should be publicized and admitted—even if the pay structure cannot always reflect the degree of differences. RALPH CROPPER Director, Transport Counsellors Ltd, London SE14
Stone appeal
Some two or three years ago you published in your journal a photograph and a note about an old roadside stone in. I believe. Yorkshire.
From the description this appeared to be a "take-off" stone; that is, the limit on a hill to which an extra horse was permitted without extra toll being levied. Although I recognized the stone, as we have a similar one in my home county of Cornwall, I did not know then that these stones were very rare and unknown outside the South West, Could I appeal. through your columns, to any of your Northern readers who may know of this stone, or perhaps if I am lucky. of any others, to contact me please. Road widening schemes are fast wiping out these relics of more leisurely days and if your readers are able to help us record some before they go I shall be more than grateful.
M. J. MESSENGER Ilfracombe, Devon
Date for the Hawk
We are sorry that the Hawk finds our proposed Armorial Bearings (not crest) "disappointingly undistinguished". I hope his eyes will be opened by Windsor Herald of Arms on September 17 when the significance of the Armorial Bearings will be explained.
J. A. FLETCHER, Secretary, Institute of Road Transport Engineers.
Spring brake origins
ON page 71 of your May 8 issue there was a question about the origin of spring brakes.
May I offer you what I understand to be the history of the device. The first patent was taken out in America by a Californian road vehicle engineer for a diaphragm-type spring brake chamber. This unit could be added to the rear of existing units of which Bendix had the original patent. Subsequently a company, Overland Anchorlok Ltd., purchased the Californian idea and still makes the only diaphragm spring brake in use.
All other designs have had to be of the piston type to avoid the diaphragm patent. In 1 957 the American Anti Trust Law made Bendix release all patent rights, and thus a number of other companies started various versions of the piston spring brake chamber.
A. H. CARTER, Carve yor Ltd. Tamworth, Staffs.
Warrior head wanted
May I appeal to any operator or owner of a Guy Arab II or Ill or similar make of chassis having old-style radiator to let me purchase the radiator filler cap and warrior head complete?
I would refund postage due, and cost incurred.
G. COX, Stourbridge, Worcs.