Northern Trailer gets new team
19th June 1970
Page 41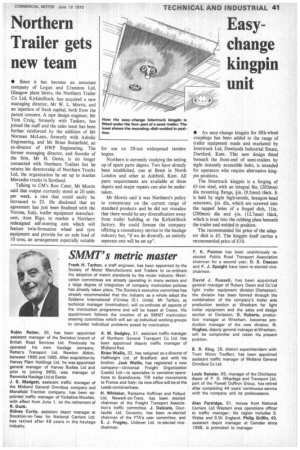 Page 41, 19th June 1970 —
Northern Trailer gets new team
Close
• Since it has become an associate company of Logan and Cranston Ltd. Glasgow plant hirers, the Northern Trailer Co Ltd, Kirkintilloch, has acquired a new managing director. Mr W. L. Morris. and an injection of fresh capital, both from the parent concern. A new design engineer, Mr Tom Craig, formerly with Taskers, has joined the staff and the sales team has been further reinforced by the addition of Mr Norman McLean, formerly with Adrolic Engineering, and Mr Brian Butterfield, an ex-director of HWP Engineering. The former managing director, and founder of the firm, Mr H. Genis, is no longer connected with Northern Trailers but he retains his directorship of Northern Trucks Ltd, the organization he set up to market Mercedes trucks in Scotland.
Talking to CM's Ron Cater, Mr Morris said that output currently stood at 20 units per week, a rate that could easily be increased to 25. He disclosed that an agreement has just been finalized with the Verona, Italy, trailer equipment manufacturer, Asse Rigo, to market a Northern redesigned self-steering axle which will feature twin-formation wheel and tyre equipment and provide for an axle load of 10 tons, an arrangement especially suitable
for use on 20-ton widespread tandem bogies.
Northern is currently studying the setting up of spare parts depots. Two have already been established, one at Brent in North London and other at Ashford. Kent. All parts requirements are available at these depots and major repairs can also be under taken.
Mr Morris said it was Northern's policy to concentrate on the current range of standard products and he did not visualize that there would be any diversification away from trailer building at the Kirkintilloch factory. He could foresee the company offering a consultancy service to the haulage industry but, "if we do diversify, an entirely separate unit will be set up".