, SMUT' s metric master
19th June 1970
Page 41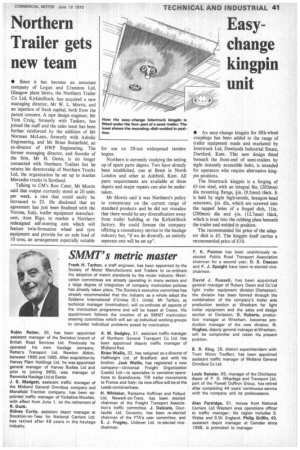 Page 41, 19th June 1970 —
, SMUT' s metric master
Close
Frank H. Tarlton, a staff engineer, has been appointed by the Society of Motor Manufacturers and Traders to co-ordinate the adoption of metric standards by the motor industry. Metrication committees are already operating in many sectors and a large degree of integration of company metrication policies has already taken place. The Society's executive committee has already recommended that the industry as a whole adopt the Systems International d'Unites (S.I. Units). Mr Tarlton, as technical manager (metrication), will co-ordinate all aspects of the metrication programme and will be based at Crewe. His appointment follows the creation of an SMMT metrication steering committee which will set up individual working groups to consider individual problems posed by metrication.
Robin Retter, 36, has been appointed assistant manager of the Swindon branch of British Road Services Ltd. Previously he operated his own haulage company, Retter's Transport Ltd, Newton Abbot, between 1960 and 1965. After acquisition by Harvey Plant Holdings Ltd, he was appointed general manager of Harvey Bodies Ltd and prior to joining BRSL was manager of Renwicks Haulage Ltd at Exeter.
J. S. Madgett, assistant traffic manager of the Midland General Omnibus company and Mansfield Traction company, has been appointed traffic manager of Yorkshire Woollen, with effect from June 1, on the retirement of R. Dunk.
Sidney Curtis, assistant depot manager at Stockton-on-Tees for National Carriers Ltd, has retired after 48 years in the haulage industry. A. M. Sedgley, 31, assistant traffic manager of Northern General Transport Co Ltd, has been appointed deputy traffic manager of Midland Red.
Brian Wallis. 32, has resigned as a director of Hallfreight Ltd, of Bradford, and with his brother, Jack Wallis, has registered a new company—Universal Freight Organization (Leeds) Ltd—to specialize in container operations to Scandinavia, TIR trailer movements to France and Italy: its new office will be at the Leeds containerbase.
H. Whitaker, Ransome Hoffman and Pollard Ltd, Newark-on-Trent, has been elected chairman of the Freight Transport Association's traffic committee. J. Delicate, Courtaulds Ltd. Coventry, has been re-elected chairman of the FTA's user committee, and E. J. Frogley, Unilever Ltd, re-elected vicechairman.
F. K. Pointon has been unanimously reelected Public Road Transport Association chairman for a second year: D. S. Deacon and F. J. Speight have been re-elected vicechairmen.
David J. Russell, has been appointed general manager of Rubery Owen and Co Ltd light trailer equipment division (Darlaston): the division has been formed through the combination of the company's trailer axle production section at Wrexham for light trailer equipment and the sales and design section at Darlaston. D. Roberts, production manager at Wrexham. becomes production manager of the new division, H. Hughes, deputy general manager at Wrexham, will be comptroller and retain his present position.
B. R. King, 26, district superintendent with Trent Motor Traction, has been appointed assistant traffic manager of Midland General Omnibus Co Ltd.
Louis Sensier, 65, manager of the Chichester depot of P. D. Wharfage and Transport Ltd, part of the Powell Duffryn Group, has retired after completing 44 years' continuous service with the company and its predecessors.
Alan Partridge, 51, moves from National Carriers Ltd Western area operations officer to traffic manager: his region includes S. Wales and S.W. England. Philip Griffin, 49, assistant depot manager at Camden since 1968, is promoted to manager.
Tags
People
:
Louis Sensier
,
Jack Wallis
,
Philip Griffin
,
J. S. Madgett
,
A. M. Sedgley
,
David J. Russell
,
D. Roberts
,
Ransome Hoffman
,
R. Dunk
,
Robin Retter
,
H. Hughes
,
Alan Partridge
,
Brian Wallis
,
Traction
,
Sidney Curtis
,
B. R. King
,
Frank H. Tarlton