Trebled side access in Merriworth
19th June 1970
Page 32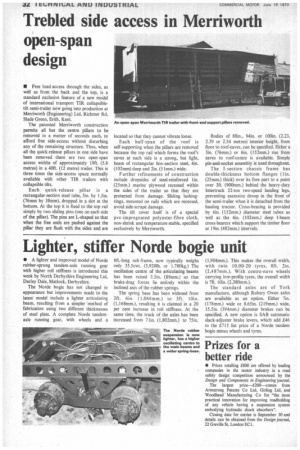 Page 32, 19th June 1970 —
Trebled side access in Merriworth
Close
open-span 4,
design
• Free load-access through the sides, as well as from the back and the top, is a standard exclusive feature of a new model of international transport TIR collapsibletilt semi-trailer now going into production at Merriworth (Engineering) Ltd, Richmer Rd, Slade Green, Erith. Kent.
The patented Merriworth construction permits all but the centre pillars to be removed in a matter of seconds each, to afford free side-access without disturbing any of the remaining structure. Thus, when all the quick-release pillars in one side have been removed there are two open-span access widths of approximately 19ft. (5.8 metres) in a 40ft. (12 metre) trailer. This is three times the side-access space normally available with other TIR trailers with collapsible tilts.
Each quick-release pillar is a rectangular-section steel tube, 3in. by 1.5in. (76mm by 38mm), dropped in a slot at the bottom. At the top it is fixed to the top rail simply by two sliding pins (one on each side of the pillar). The pins are L-shaped so that when the free ends are pushed against the pillar they are flush with the, sides and are located so that they cannot vibrate loose.
Each half-span of the roof is self-supporting when the pillars are removed because the top rail which forms the roof's eaves at each side is a strong, but light, beam of rectangular box-section steel, 4in. (102mm) deep and 2in. (5 I mm.) wide.
Further refinements of construction include dropsides of steel-reinforced lin. (25 mm.) marine plywood recessed within the sides of the trailer so that they are protected from damage. Sliding lashingrings, mounted on rails which are recessed, avoid side-scrape damage.
The tilt cover itself is of a special pvc-impregnated polyester-fibre cloth, non-shrink and temperature-stable. specified exclusively by Merriworth. Bodies of 88in., 94in. or 100in. (2.23. 2.39 or 2.54 metres) interior height, from floor to roof-eaves, can be specified. Either a 3in. (76mm.) or 6in. (152mm.) rise from eaves to roof-centre is available. Simple pin-and-socket assembly is used throughout.
The I-section chassis frame has double-thickness bottom flanges (lin. (25mm.) thick) over its fore part to a point over 3ft. (900mm.) behind the heavy-duty Intertruck 22-ton two-speed landing legs, preventing excessive droop in the front of the semi-trailer when it is detached from the hauling tractor. Cross-bracing is provided by 6in. (152mm.) diameter steel tubes as well as the 4in. (102mm.) deep 1-beam cross-bearers which support the timber floor at 19in. (482mm.) intervals.