Lighter, stiffer Norde bogie unit
19th June 1970
Page 32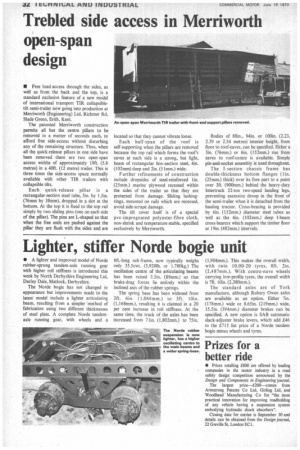 Page 32, 19th June 1970 —
Lighter, stiffer Norde bogie unit
Close
• A lighter and improved model of Norde rubber-sprung tandem-axle running gear with higher roll stiffness is introduced this week by North Derbyshire Engineering Ltd, Darley Dale, Matlock, Derbyshire.
The Norde bogie has not changed in appearance but improvements made to the latest model include a lighter articulating beam, resulting from a simpler method of fabrication using two different thicknesses of steel plate. A complete Norde tandemaxle running gear, with wheels and a 6ft.-long sub frame, now typically weighs only 35.5cwt. (3,920Ib. or 1.780kg.) The oscillation centre of the articulating beams has been raised 3.5in. (89mm.) so that brake-drag forces lie entirely within the inclined axis of the rubber springs.
The spring base has been widened from 3ft. 6in. (1,066mm.) to 3ft. 10in. (1.168mm.), resulting it is claimed in a 20 per cent increase in roll stiffness. At the same time, the track of the axles has been increased from 71in. (1,802mm.) to 75in. (1,904mm.). This makes the overall width, with twin 10.00-20 tyres, 8ft. 2in. (2,487mm.). With centre-nave wheels carrying low-profile tyres, the overall width is 7ft. 10in. (2,380mm.).
The standard axles are of York manufacture. although Rubery Owen axles are available as an option. Either 7in. (178mm.) wide or 8.65in. (219mm.) wide, 15.5in. (394mm.) diameter brakes can be specified. A new option is SAB automatic slack-adjuster brake levers, which add £46 to the £715 list price of a Norde tandem bogie minus wheels and tyres.