'Not a pretty story' contractor told
19th June 1970
Page 30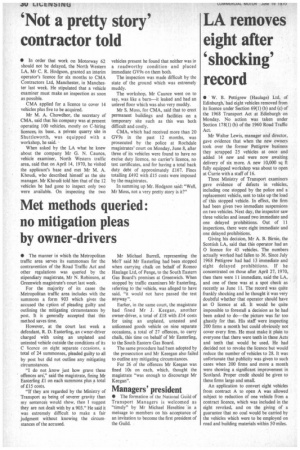 Page 30, 19th June 1970 —
'Not a pretty story' contractor told
Close
• In order that work on Motorway 62 should not be delayed, the North Western LA, Mr C. R. Hodgson, granted an interim operator's licence for six months to CMA Contractors Ltd, Manchester, in Manchester last week. He stipulated that a vehicle examiner must make an inspection as soon as possible.
CMA applied for a licence to cover 14 vehicles plus five to be acquired.
Mr M. A. Chowdhor, the secretary of CMA, said that his company was at present operating 100 vehicles, mostly on C-hiring licences; its base, a private quarry site in Shuttleworth, was equipped with a workshop, he said.
When asked by the LA what he knew about the company Mr G. N. Caunce, vehicle examiner, North Western traffic area, said that on April 14, 1970, he visited the applicant's base and met Mr M. A. Khoudi, who described himself as the site manager. Mr Khoudi told him that of the 12 vehicles he had gone to inspect only two were available. On inspecting the two vehicles present he found that neither was in a roadworthy condition and placed immediate GV9s on them both.
The inspection was made difficult by the State of the ground which was extremely muddy.
The workshop, Mr Caunce went on to say, was like a barn—it leaked and had an unlevel floor which was also very muddy.
Mr S. Moss, for CMA, said that to erect permanent buildings and facilities on a temporary site such as this was both difficult and costly.
CMA, which had received more than 20 GV9s in the past 12 months, was prosecuted by the police at Rochdale magistrates' court on Monday, June .8, after three of its vehicles were found to have no excise duty licence, no carrier's licence, no test certificates, and for having a total back duty debt of approximately £167. Fines totalling £492 with £15 costs were imposed by the magistrates.
In summing up Mr. Hodgson said: "Well, Mr Moss, not a very pretty story is it?"