Met methods queried: no mitigation pleas by owner-drivers
19th June 1970
Page 30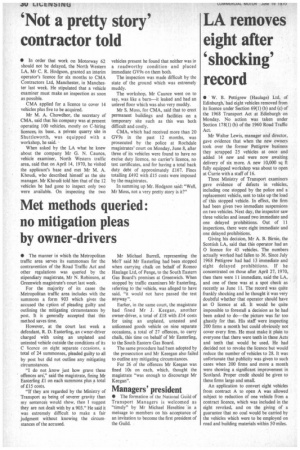 Page 30, 19th June 1970 —
Met methods queried: no mitigation pleas by owner-drivers
Close
• The manner in which the Metropolitan traffic area serves its summonses for the contravention of the Road Traffic Act and other regulations was queried by the stipendiary magistrate, Mr N. Robinson, at Greenwich magistrate's court last week.
For the majority of its cases the Metropolitan traffic area includes with the summons a form 903 which gives the accused the cption of pleading guilty and outlining the mitigating circumstances by post. It is generally accepted that this method saves time.
However, at the court last week a defendant, R. D. Easterling, an c wner-driver charged with using an unplated and untested vehicle outside the conditions of its C licence on eight separate cccasions. a total of 24 summonses, pleaded guilty to all by post but did not outline any mitigating circumstances.
"I do not ,know just how grave these offences are," said the magistrate, fining Mr Easterling £1 on each summons plus a total of £15 costs.
"If they are regarded by the Ministry of Transport as being of severer gravity than my sentences would show, then I suggest they are not dealt with by a 903." He said it was extremely difficult to make a fair judgment without knowing the circumstances of the accused. Mr Michael Burrell, representing the MoT said Mr Easterling had been stopped when carrying chalk on behalf of Romeo Haulage Ltd, of Penge, to the South Eastern Gas Board's premises at Greenwich. When stopped by traffic examiners Mr Easterling, referring to the vehicle, was alleged to have said, "it would not have passed the test anyway".
Earlier, in the same court, the magistrate had fined Mr 3. Keegan, another owner-driver, a total of £18 with £14 costs for using an unplated, untested and unlicensed goods vehicle on nine separate occasions, a total of 27 offences, to carry chalk, this time on behalf of Mr Easterling, to the South Eastern Gas Board.
The same procedure had teen adopted by the prosecution and Mr Keeegan also failed to outline any mitigating circumstances.
For 26 of the offences Mr Keegan was fined lOs on each, which, thought the magistrate "was enough to discourage Mr Keegan".
Managers' president
• The formation of the National Guild of Transport Managers is welcomed as "timely" by Mr Michael Heseltine in a message to members on his acceptance of an invitation to become the first president of the Guild.