LA removes eight after 'shocking' record
19th June 1970
Page 30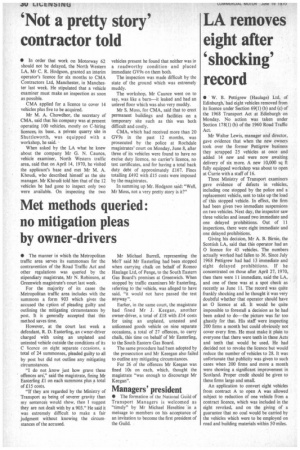 Page 30, 19th June 1970 —
LA removes eight after 'shocking' record
Close
• W. B. Pettigrew (Haulage) Ltd, of Edinburgh, had eight vehicles removed from its licence under Section 69(1) (b) and (c) of the 1968 Transport Act at Edinburgh on Monday. No action was taken under Section 178(1) (b) of the 1960 Road Traffic Act.
Mr Walter Lewis, manager and director, gave evidence that when the new owners took over the former Pettigrew business they scrapped 25 vehicles at once and added 14 new and were now awaiting delivery of six more. A new 10,000 sq ft fully equipped workshop was about to open at Currie with a staff of 16.
Three Ministry of Transport examiners gave evidence of defects in vehicles, including one stopped by the police and a replacement vehicle, sent to take up the load of this stopped vehicle. In effect, the firm had been given two immediate suspensions on two vehicles. Next day, the inspector saw three vehicles and issued two immediate and one delayed prohibitions. Out of 11 inspections, there were eight immediate and one delayed prohibitions.
Giving his decision, Mr A. B. Birnie, the Scottish LA, said that this operator had an O licence for 45 vehicles. The numbers actually worked had fallen to 36. Since July 1968 Pettigrew had had 13 immediate and eight delayed prohibitions. If he concentrated on those after April 27, 1970, then there were 11 immediate, said the LA, and one of these was at a spot check as recently as June II. The record was quite frankly shocking and he thought it was very doubtful whether that operator should have an 0 licence at all. It would be quite impossible to forestall a decision as he had been asked to do—the picture was far too ghastly for that. His staff were inspecting 200 firms a month but could obviously not cover every firm. He must make it plain to everyone that there were teeth in these Acts and teeth that would be used. He had _decided not to revoke the licence but would reduce the number of vehicles to 28. It was unfortunate that publicity was given to such cases when 200 firms and more a month were showing a significant improvement in Scotland. Proper credit should be given to these firms large and small.
An application to convert eight vehicles from contract A to open A was allowed subject to reduction of one vehicle from a contract licence, which was included in the eight revoked, and on the giving of a guarantee that no coal would be carried by the vehicles which were to be employed on road and building materials within 50 miles.