Integration in Exeter
19th June 1970
Page 29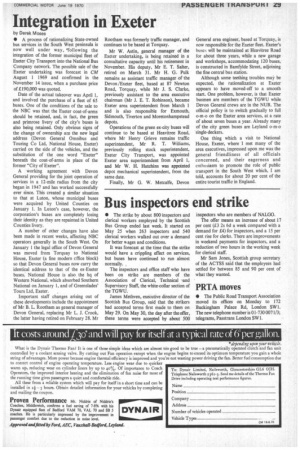 Page 29, 19th June 1970 —
Integration in Exeter
Close
by Derek Moses • A process of rationalizing State-owned bus services in the South West peninsula is now well under way, *following the integration of the former municipal fleet of Exeter City Transport into the National Bus Company network. The possible sale of the Exeter undertaking was forecast in CM August 1 1969 and confirmed in the November 14 issue, when a purchase price of £ 190,000 was quoted.
Date of the actual takeover was April 1, and involved the purchase of a fleet of 65 buses. One of the conditions of the sale to the NBC was that the Exeter coat-of-arms should be retained, and, in fact, the green and primrose livery of the city's buses is also being retained. Only obvious signs of the change of ownership are the new legal address (Devon General Omnibus and Touring Co Ltd, National House, Exeter) carried on the side of the vehicles, and the substitution of the one word "Exeter" beneath the coat-of-arms in place of the former "City of Exeter".
A working agreement with Devon General providing for the joint operation of services in a 12-mile radius from the city began in 1947 and has worked successfully ever since. This created a similar situation to that at Luton, whose municipal buses were acquired by United Counties on January 1. In Luton's case, however, the corporation's buses are completely losing their identity as they are repainted in United Counties livery.
A number of other changes have also been made in recent weeks, affecting NBC operators generally in the South West. On January 1 the legal office of Devon General was moved from Torquay to National House, Exeter (a fine modern cffice block) so that Devon General buses now carry the identical address to that of the ex-Exeter buses. National House is also the hq of Western National, which absorbed Southern National on January l, and of Greenslades' Tours Ltd, Exeter.
Important staff changes arising out of these developments include the appointment of Mr B. L. Rootham as general manager of Devon General, replacing Mr L. J. Crook, the latter having retired on February 28. Mr Rootham was formerly traffic manager, and continues to be based at Torquay.
Mr W. Astin, general manager of the Exeter undertaking, is being retained in a consultative capacity until his retirement in November. His deputy, Mr E. T. Salter, retired on March 31. Mr H. G. Pulk remains as assistant traffic manager of the Devon /Exeter fleet, based at 87 Newton Road, Torquay, while Mr J. S. Clarke, previously assistant to the area executive chairman (Mr J. E. T. Robinson), became Exeter area superintendent from March 1 and is also responsible for Exmouth, Sidmouth, Tiverton and Moretonhampstead depots.
Operations of the green ex-city buses will continue to be based at Heavitree Road, where Mr Henry Grieve remains traffic superintendent, Mr R. T. Williams, previously rolling stock superintendent, Exeter City Transport, was appointed Exeter area superintendent from April 1, and Mr W. H. Hutchins was appointed depot mechanical superintendent, from the same date.
Finally, Mr G. W. Metcalfe, Devon
Tags
People
:
W. H. Hutchins
,
G. W. Metcalfe
,
H. G. Pulk
,
R. T. Williams
,
E. T. Salter
,
B. L. Rootham
,
J. S. Clarke
,
L. J. Crook
,
Derek Moses
,
Henry Grieve
,
W. Astin