Bus inspectors end strike
19th June 1970
Page 29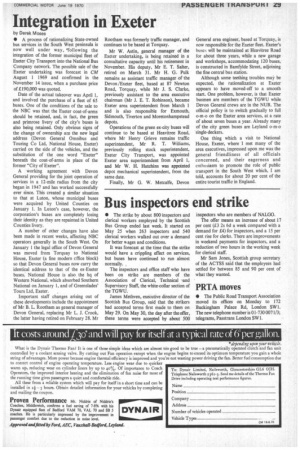 Page 29, 19th June 1970 —
Bus inspectors end strike
Close
Keywords :
International Transport Workers' Federation
,
International Union Of Food, Agricultural, Hotel, Restaurant, Catering, Tobacco And Allied Workers' Association
,
Transport And General Workers' Union
,
Strike Action
,
Clerk
,
National Association Of Local Government Officers
,
Labor
• The strike by about 800 inspectors and clerical workers employed by the Scottish Bus Group ended last week. It started on May 25 when 263 inspectors and 540 clerical workers walked out over a demand for better w ages and conditions.
It was forecast at the time that the strike would have a crippling effect on services, but buses have continued to run almost normally. , The inspectors and office staff who have been on strike are members of the Association of Clerical, Technical and Supervisory Staff, the white-collar section of the TGWU.
James Methven, executive director of the Scottish Bus Group, said that the strikers had accepted terms first made to them on May 29. On May 30, the day after the offer, these terms were accepted by about 500 inspectors who are members of NALGO.
The offer means an increase of about 17 per cent (£3 2s 6d a week compared with a demand for £4) for inspectors, and a 15 per cent rise for clerks. There are improvements in weekend payments for inspectors, and a reduction of two hours in the working week for clerical staff.
Mr Sam Jones, Scottish group secretary of the ACTSS said that the employees had settled for between 85 and 90 per cent of what they wanted.