28 PASSENGER TRANSPOrl
19th June 1970
Page 28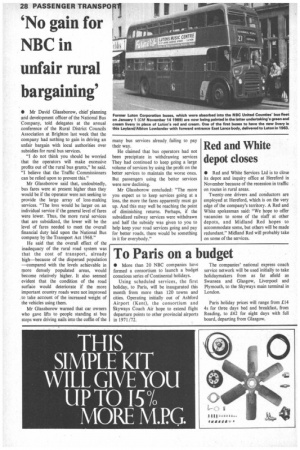 Page 28, 19th June 1970 —
28 PASSENGER TRANSPOrl
Close
'No gain for NBC in unfair rural bargaining'
• Mr David Glassborow, chief planning grid development officer of the National Bus Company, told delegates at the annual conference of the Rural District Councils Association at Brighton last week that the company had nothing to gain in driving an unfair bargain with local authorities over subsidies for rural bus services.
"I do not think you should be worried that the operators will make excessive profits out of the rural bus grants," he said. "I believe that the Traffic Commissioners can be relied upon to prevent this."
Mr Glassborow said that, undoubtedly, bus fares were at present higher than they would be if the operator were not seeking to provide the large array of loss-making services. "The loss would be larger on an individual service if the general level of fares were lower. Thus, the more rural services that are subsidized, the lower will be the level of fares needed to meet the overall financial duty laid upon the National Bus company by the Transport Act 1968."
He said that the overall effect of the inadequacy of the rural road system was that the cost of transport, already high—because of the dispersed population —compared with the levels achievable in more densely populated areas, would become relatively higher. It also seemed evident that the condition of the road surface would deteriorate if the more important country roads were not improved to take account of the increased weight of the vehicles using them.
Mr Glassborow warned that car owners who gave lifts to people standing at bus stops were driving nails into the coffin of the
many bus services already failing to pay their way.
He claimed that bus operators had not been precipitate in withdrawing services They had continued to keep going a large volume of services by using the profit on the better services to maintain the worse ones. But passengers using the better services were now declining.
Mr Glassborow concluded: "The more you expect us to keep services going at a loss, the more the fares apparently must go up. And this may well be reaching the point of diminishing returns. Perhaps, if the subsidized railway services were withdrawn and half the subsidy was given to you to help keep your road services going and pay for better roads, there would be something in it for everybody,"