Ford-HIAB tie-up makes crane fitting simple
19th June 1970
Page 24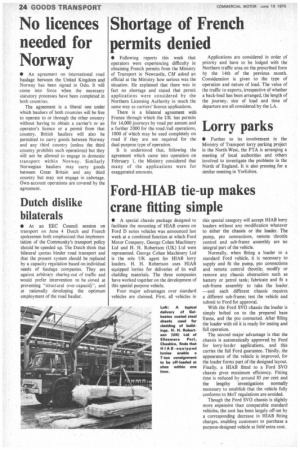 Page 24, 19th June 1970 —
Ford-HIAB tie-up makes crane fitting simple
Close
• A special chassis package designed to facilitate the mounting of HIAB cranes on Ford ID series vehicles was announced last week at a combined function at which Ford Motor Company, George Cohen Machinery Ltd and H. H. Robertson (UK) Ltd were represented. George Cohen Machinery Ltd is the sole UK agent for HIAB lorry loaders. H. H. Robertson uses HIAB equipped lorries for deliveries of its wall cladding materials. The three companies have worked together on the development of this special purpose vehicle.
Four major advantages over standard vehicles are claimed. First, all vehicles in this special category will accept H1AB lorry loaders without any modification whatever to either the chassis or the loader. The pump, pto connections, remote throttle control and sub-frame assembly are an integral part of the vehicle_ Normally, when fitting a loader to a standard Ford vehicle, it is necessary to supply and fit the pump, pto connections and remote control throttle; modify or remove any chassis obstruction such as battery or petrol tank; fabricate and fit a sub-frame assembly to take the loader. —and each different chassis requires a different sub-frame; test the vehicle and submit to Ford for approval.
With the Ford SVO chassis the loader is simply bolted on to the prepared base frame, and the pto connected. After filling the loader with oil it is ready for testing and full operation.
The second major advantage is that the chassis is automatically approved by Ford for lorry-loader applications, and this carries the full Ford guarantee. Thirdly, the appearance of the vehicle is improved, for the loader forms part of the designed layout. Finally, a HIAB fitted to a Ford SVO chassis gives maximum efficiency. Fitting time is reduced by around 85 per cent and the lengthy investigations normally necessary to establish that the vehicle fully conforms to MoT regulations are avoided.
Though the Ford SVO chassis is slightly more expensive than comparable standard vehicles, the cost has been largely off-set by a corresponding decrease in HIAB fitting charges, enabling customers to purchase a purpose-designed vehicle at litt18 extra cost.