THE WEEK
19th June 1970
Page 22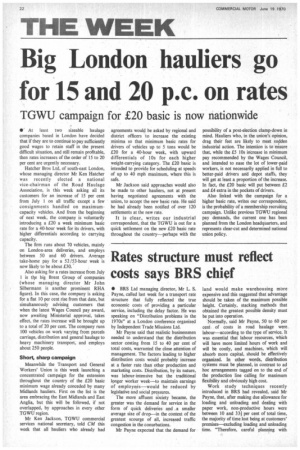 Page 22, 19th June 1970 —
THE WEEK
Close
Big London hauliers go for 15 and 20 p.c. on rates
TGWU campaign for £20 basic is now nationwide
•• At least two sizeable haulage companies based in London have decided that if they are to continue to pay sufficiently good wages to retain staff in the present difficult situation, and still remain profitable, then rates increases of the order of 15 to 20 per cent are urgently necessary.
Hatcher Bros Ltd, of south-east London, whose managing director Mr Ken Hatcher was recently elected a national vice-chairman of the Road Haulage Association, is this week asking all its customers for an increase of 15 per cent from July I on all traffic except a few consignments handled on maximumcapacity vehicles. And from the beginning of next week, the company is voluntarily introducing a £20 a week minimum basic rate for a 40-hour week for its drivers, with higher differentials according to carrying capacity.
The firm runs about 70 vehicles, mainly on London-area deliveries, and employs between 50 and 60 drivers. Average take-home pay for a 52/53-hour week is now likely to be about £30.
Also asking for a rates increase from July 1 is the big Brent Group of companies (whose managing director Mr John Silbermann is another prominent RHA figure). In this case, the company is asking for a flat 10 per cent rise from that date, but simultaneously advising customers that when the latest Wages Council pay award, now awaiting Ministerial approval, takes effect, the rates increase will be brought up to a total of 20 per cent. The company runs 100 vehicles on work varying from parcels carriage, distribution and general haulage to heavy machinery transport, and employs about 250 people.
Short, sharp campaign Meanwhile the Transport and General Workers' Union is this week launching a concentrated campaign for the extension throughout the country of the £20 basic minimum wage already conceded by many Midlands hauliers. First on the list is the area embracing the East Midlands and East Anglia, but this will be followed, if not overlapped, by approaches in every other TGWU region.
Mr Ken Jackson, TGWU commercial services national secretary, told CM this week that all hauliers who already had
agreements would be asked by regional and district officers to increase the existing minima so that minimum basic rates for drivers of vehicles up to 5 tons would be £20 for a 40-hour week, with upward differentials of lOs for each higher weight-carrying category. The £20 basic is intended to provide for scheduling at speeds of up to 40 mph maximum, where this is safe.
Mr Jackson said approaches would also be made to other hauliers, not at present having negotiated agreements with the union, to accept the new basic rate. He said he had already been notified of over 120 settlements at the new rate.
It is clear, writes our industrial correspondent, that the TGWU is out for a quick settlement on the new £20 basic rate throughout the country—perhaps with the possibility of a post-election clamp-down in mind. Hauliers who, in the union's opinion, drag their feet are likely to meet sudden industrial action. The intention is to ensure that, while the £5 lOs increase in minimum pay recommended by the Wages Council, and intended to ease the lot of lower-paid workers, is not necessarily applied in full to better-paid drivers and depot staffs, they will get at least a proportion of the increase. In fact, the £20 basic will put between £2 and £4 extra in the pockets of drivers.
Also linked with the campaign for a higher basic rate, writes our correspondent, is the probability of a membership recruiting campaign. Unlike previous TGWU regional pay demands, the current one has been planned from the London headquarters, and represents clear-cut and determined national union policy.