Rates structure must reflect costs says BRS chief
19th June 1970
Page 22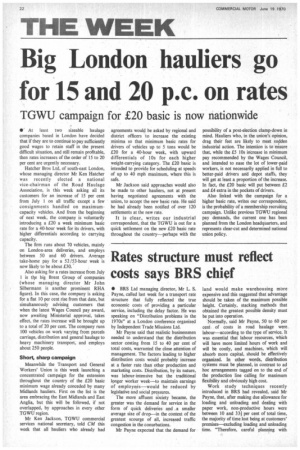 Page 23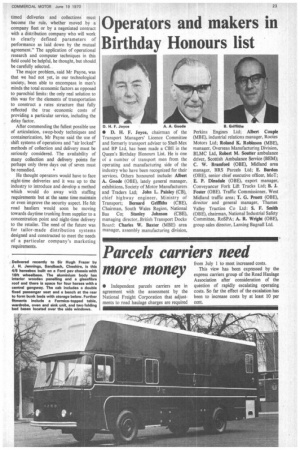 Page 22, 19th June 1970 —
Rates structure must reflect costs says BRS chief
Close
• BRS Ltd managing director, Mr L. S. Payne, called last week for a transport rate structure that fully reflected the true economic costs of providing a particular service, including the delay factor. He was speaking on "Distribution problems in the 1970s" at a London conference organized by Independent Trade Missions Ltd.
Mr Payne said that realistic businessmen needed to understand that the distribution sector costing from 15 to 40 per cent of total costs, warranted the close attention of management. The factors leading to higher distribution costs would probably increase at a faster rate than other production and marketing costs. Distribution, by its nature, was labour-intensive but the traditional longer worker week—to maintain earnings of employees—would be reduced by legislative and social pressures.
The more affluent society became, the greater was the demand for service in the form of quick deliveries and a smaller average size of drop—in the context of the greatest scourge of all, increased traffic congestion in the conurbations.
Mr Payne expected that the demand for land would make warehousing more expensive and this suggested that advantage should be taken of the maximum possible height. Certainly, stacking methods that obtained the greatest possible density must be put into operation.
Normally, said Mr Payne, 50 to 60 per cent of costs in road haulage were, labour—according to the type of service. It was essential that labour resources, which will have more limited hours of work and will be costly, and machines, which will absorb more capital, should be effectively organized. In other words, distribution systems must be planned, in contrast to ad hoc arrangements tagged on to the end of the production line calling for maximum flexibility and obviously high cost.
Work study techniques recently introduced in BRS had revealed, said Mr Payne, that, after making due allowance for loading and unloading and dealing with paper work, non-productive hours were between 10 and 331 per cent of total time, the majority of time lost being at customers' premises—excluding loading and unloading time. "Therefore, careful planning with timed deliveries and collections must become the rule, whether moved by a company fleet or by a negotiated contract with a diStribution company who will work to clearly defined parameters of performance as laid down by the mutual agreement." The application of operational research and computer techniques in this field could be helpful, he thought, but should be carefully selected..
The major problem, said Mr Payne, was that we had not yet, in our technological society, been able to encompass in men's minds the total economic factors as opposed to parochial limits: the only real solution to this was for the elements of transportation to construct a rates structure that fully reflected the true .economic costs of providing a particular service, including the delay factor.
After commending the fullest possible use of articulation, swop-body techniques and containerization, Mr Payne said the use of shift systems of operations and "air locked" methods of collection and delivery must be seriously considered. The availability of many collection and delivery points for perhaps only three days out of seven must be remedied.
He thought operators would have to face night-time deliveries and it was up to the industry to introduce and develop a method which would do away with staffing requirements but at the same time maintain or even improve the security aspect. He felt road hauliers would soon be moving towards daytime trunking from supplier to a concentration point and night-time delivery to the retailer. The need of the future was for tailor-made distribution systems designed and constructed to meet the needs of a particular company's marketing requirements.