Hauliers in danger
19th June 1970
Page 21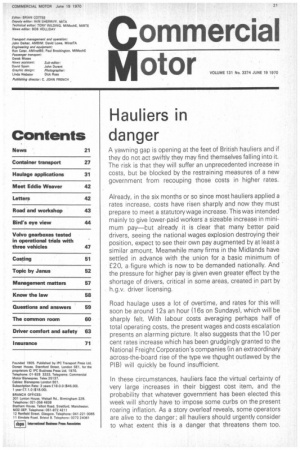 Page 21, 19th June 1970 —
Hauliers in danger
Close
A yawning gap is opening at the feet of British hauliers and if they do not act swiftly they may find themselves falling into it. The risk is that they will suffer an unprecedented increase in costs, but be blocked by the restraining measures of a new government from recouping those costs in higher rates.
Already, in the six months or so since most hauliers applied a rates increase, costs have risen sharply and now they must prepare to meet a statutorywage increase. This was intended mainly to give lower-paid workers a sizeable increase in minimum pay—but already it is clear that many better paid drivers, seeing the national wages explosion destroying their position, expect to see their own pay augmented by at least a similar amount. Meanwhile many firms in the Midlands have settled in advance with the union for a basic minimum of £20, a figure which is now to be demanded nationally. And the pressure for higher pay is given even greater effect by the shortage of drivers, critical in some areas, created in part by h.g.v. driver -licensing.
Road haulage uses a lot of overtime, and rates for this will soon be around 12s an hour (16s on Sundays), which will be sharply felt. With labour costs averaging perhaps half of total operating costs, the present wages and costs escalation presents an alarming picture. It also suggests that the 10 per cent rates increase which has been grudgingly granted to the National Freight Corporation's companies (in an extraordinary across-the-board rise of the type we thought outlawed by the PIB) will quickly be found insufficient.
In these circumstances, hauliers face the virtual certainty of very large increases in their biggest cost item, and the probability that whatever government has been elected this week will shortly have to impose some curbs on the present roaring inflation. As a story overleaf reveals, some operators are alive to the danger; all hauliers should urgently consider to what extent this is a danger that threatens them too.