ROAD AND WORKSHOP by Handyman
19th June 1964
Page 44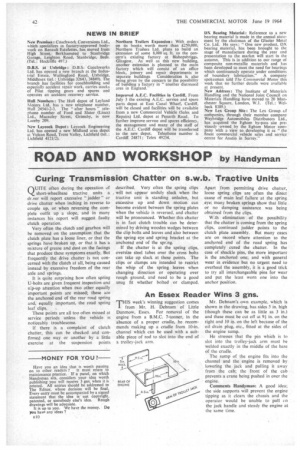 Page 44, 19th June 1964 —
ROAD AND WORKSHOP by Handyman
Close
Curing Transmission Chatter on s.w.b. Tractive Units
nUITE often during the operation of
short-wheelbase tractive units a dr.ver will report excessive " judder " or drive chatter when inching in reverse to couple up, or when reversing the complete outfit up a slope, and in many instances his report will suggest faulty clutch operation.
Very often the clutch and gearbox will be removed on the assumption that the clutch plate has a loose liner, or that the springs have broken up, or that it has a mixture of grease and dust on the facings that produce these symptoms exactly. But frequently the drive chatter is not concerned with the clutch at all, being caused instead by excessive freedom of the rear axle and springs_
It is quite surprising how often spring LI-bolts are given frequent inspection and n:p-up attention when two other equally important points are missed; these are the anchored end of the rear road spring and, equally important, the road spring leaf clips.
These points are all too often missed at service periods unless the vehicle is noticeably troublesome.
If there is a complaint of clutch chatter, this can be checked and confirmed one way or another by a little exercise at the suspension points
described. Very often the spring clips will not appear unduly slack when the tractive unit is standing unladen, but excessive up and down motion can become evident between the spring plates when the vehicle is reversed, and chatter will be pronounced. Whether this chatter is in fact clutch trouble can be determined by driving wooden wedges between the clip bolts and leaves and also between the spring eye and spring bracket at the anchored end of the spr:rtg.
If the chatter is at the spring clips, oversize steel tubes over the cross bolts can take up slack at these points. The clips or clamps are intended to restrict the whip of the spring leaves when changing direction or operating over rough ground, and need to be a good snug fit whether bolted or clamped.
Apart from permitting drive chatter, loose spring clips are often the direct cause of main leaf failure at the spring eye; many broken springs show that little or no damping assistance was being obtained from the clips.
With elimination of the possibility that the chatter is coming from the spring clips, continued judder points to the clutch plate assembly. But many cases are on record where attention to the anchored end of the road spring has completely cured the chatter. In the case of shackle pins, the more important is the anchored one; and with general wear in evidence but no urgent need to overhaul the assembly, it is a good trick to try all interchangeable pins for wear and put the least worn one into the anchor position.