YORK ABANDONS SKELMERSDALE T HEplan to build a £40,000 factory in
19th June 1964
Page 40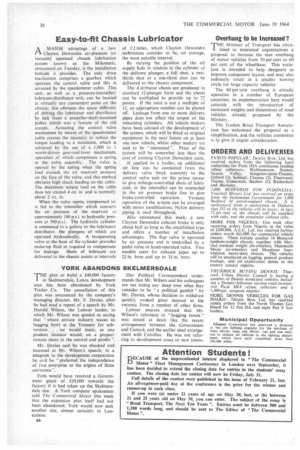 Page 40, 19th June 1964 —
YORK ABANDONS SKELMERSDALE T HEplan to build a £40,000 factory in
Close
Skelmersdale, Lanes, development area has been abandoned by York Trailer Co. The cancellation of this plan was announced by the company's managing director, Mr. F. Davies. after he had read a report of a speech by Mr. Harold Wilson, the Labour leader, in which Mr. Wilson was quoted as saying that "where private industry waves its begging bowl at the Treasury for subvention . . we would insist, as any prudent investor would, on a proportionate share in the control and profits ".
Mr. Davies said he was shocked and incensed at Mr. Wilson's speech; in a telegram to the development corporation he in id he "preferred the independence of flax enterprise to the stigma of State assistance ".
York would have received a Government grant of £10,000 towards the factory if it had taken up the Skelmersdale site. A York company spokesman told The Commercial Motor this week that the expansion plan itself had not been abandoned; York would now seek another site, almost certainly in Lancashire.
B6
Our Political Correspondent understands that Mr. Wilson and his colleagues are not losing any sleep over what they consider to be "a political gambit" by Mr. Davies, whose decision to withdraw quickly evoked great interest in the vacancy from a number of other firms. Labour sources stressed that Mr. Wilson's reference to "begging bowls was aimed at deals like the recent arrangement between the Government and Cunard, and the earlier steel arrangement with ColvEles. He was not referring to development areas or new towns.